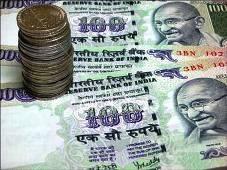 In sync with the stock market, rupee on Friday soared by 30 paise to close at two-week high levels of 55.36 against the US dollar on the back of capital inflows after European Central Bank's announcement to buy bonds.

At the Interbank Foreign Exchange market, the rupee resumed higher at 55.54 a dollar from overnight close of 55.66 and immediately touched a low of 55.63.

Fund flows worth Rs 500 crore (Rs 5 billion) in stocks and sustained dollar selling by exporters turned the sentiment in favour of rupee and it bounced back to remain in positive terrain throughout the day.

It touched a high of 55.35 before concluding at 55.36, a rise of 30 paise or 0.54 per cent. The rupee also tracked gains in pound sterling which on Friday hit 3-1/2-month high against the US dollar.

On Thursday, rupee had risen by 25 paise or 0.45
per cent ahead of ECB's meeting in Frankfurt where it announced a potentially unlimited bond buying plan that soothed frailed nerves of investors who feared a collapse of Euro.
The dollar index, consisting of six major global units, however was down by 0.31 per cent today while New York crude oil was quoting above $96 a barrel in Europe.
Pramit Brahmbhatt, CEO, Alpari Financial Services (India) said,"The rupee extended the gains on liquidity enriched global markets which pushed the dollar index below the 81 levels hitting towards the multi month low. After the ECB's new plan, global markets are running high on the hopes of a positive Non Farm Payrolls numbers from US."
The market euphoria, however, is expected to calm down soon and the USD/rupee is likely to be more dependent on domestic cues, said Indranil Pan, Chief Economist, Kotak Mahindra Bank.