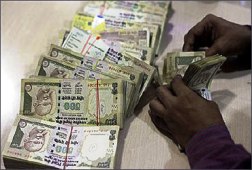 The rupee hit a record low on Monday as India's defence of the currency failed to stop its decline but exacted a rising toll, with bond yields surging to five-year highs and investors demanding higher returns in an auction of cash bills.

The rupee tumbled past 63.00 to the dollar, down about 2 per cent on the day to end at 63.13.

It breached the previous low of 62.03 hit on Friday despite a spate of measures in recent weeks by the central bank and government to defend it.

Policymakers' measures to prop up the currency, which has tumbled 12 per cent against the dollar so far in 2013, have thus far proved ineffective, making it the worst performer in emerging Asia and threatening to drive the region's third-largest economy towards a full-blown crisis.

In a further threat to the already-slowing economy, the RBI's efforts to shore up the currency by draining liquidity from financial markets is pushing up market interest rates.

Axis Bank on Monday became the latest lender to raise its minimum lending rate by 25 basis points, to 10.25 per cent, pushing up the cost of home and auto loans.

"Our primary concern is that the policy authorities still don't 'get it' -- thinking this is a fairly minor squall which will simmer down relatively quickly with fairly minor actions," Robert Prior-Wandesforde, an economist at Credit Suisse, wrote in a note on Monday.

"If this remains the case, then a swift move to 65 against the US dollar is probable, which in turn should help focus minds."

While India's current crisis has evoked parallels to 1991, when it had to pledge gold to the International Monetary Fund, the World Bank's chief economist on Monday said such comparisons were unwarranted and India need not seek a credit line from the IMF.

"Several people have come to me (asking) if are we back to 1991?

That is completely a non-question because if you look at a couple of numbers there is absolutely no comparison," Kaushik Basu, a former senior government official now at the World Bank, said in New Delhi.

A record-high current account deficit of 4.8 per cent of gross domestic product in the last fiscal year has made India particularly vulnerable as funds leave emerging markets in expectation that the US Federal Reserve will soon scale back its quantitative easing.

Net outflows from Indian bonds and stocks total $11.4 billion since late May.

Still, India has reserves to cover about seven months of imports, compared with just three weeks in 1991.

India's bond market has borne the brunt of the outflows, with foreigners taking out around $10 billion since May 22.

Equity markets have remained relatively insulated with outflows from the cash market at less than $100 million on Friday, when the main stock benchmark fell about 4 per cent, the most in nearly two years.

Heightened selling in equities could exacerbate the rupee's fall, dealers said.

The BSE Sensex fell 1.6 per cent on Monday.

RUPEE SWOONS

Meanwhile, the cost of insuring debt of State Bank of India, a proxy for Indian sovereign debt, jumped on Monday to 14-month highs as the rupee plunged.

Five-year credit default swaps on SBI traded at 351 basis points, a 45 bps rise from Friday's close, data provider Markit said.

Continued dollar demand by banks and oil refiners contributed to the rupee's latest fall, dealers said.

Some dealers expect further dollar selling by the Reserve Bank of India as well as other measures in a bid to support the currency.

Traders seemed unconvinced about the efficacy of steps unveiled last week to cut the current account deficit to 3.7 per cent of GDP during the current fiscal year.

"Forex intervention will continue by the central bank. Further measures are expected from the RBI but are unlikely to be effective.

The rupee is expected to touch 63 in no time," said Param Sarma, chief executive at Brokerage NSP Forex.

Finance Secretary Arvind Mayaram told Monday's Economic Times that the government was not looking for now to take further steps to tackle the rupee's fall, but wanted to see the impact of its recent measures.

The rupee's tumble has fuelled expectations of more action from the RBI, which last week curbed outflows from companies and individuals, roiling stock and bond markets.

YIELD SURGE

The yield on India's 10-year benchmark government bond climbed to 9.17 per cent, its highest since before the Lehman Brothers collapse in late 2008.

The RBI set a cutoff of 12.2370 per cent on 28-day cash management bills. It had sold 35-day paper at 11.7056 pct last week.

"The priority is clearly rupee management. Pressure will rise on the fiscal side with yields rising, but the government can compress expenditure later," said Anjali Verma, economist at PhillipCapital in Mumbai.

Many economists believe the RBI's liquidity tightening measures will stay in place longer than initially expected, and many have cut their economic growth forecasts for the current fiscal year.

India's economy grew at a decade-low 5 per cent in the last fiscal year, and some economists now see little improvement on that in the current year, as political gridlock ahead of national elections due by May limits New Delhi's ability to enact structural reforms to attract long-term inflows.
Additional reporting by Umesh Desai in Hong Kong, Rajesh Kumar Singh in New Delhi, and Sujata Rao in London