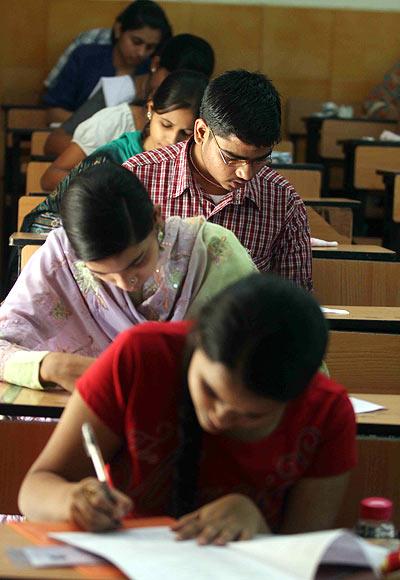 Since 2011, all public sector units, except the State Bank of India and its associate banks, recruit their employees through a Common Written Examination (CWE) conducted by the Institute of Banking Personnel Selection (IBPS).
The Common Written Examination for probationary officers for public sector banks will be held on October 19, 20, 26 and 27 respectively.
In an online chat with Rediff readers on August 19, Anil Nagar, director, Bank Power Institute, Delhi addressed queries and shared tips and strategies to crack the upcoming bank entrance exam.
For those who missed the live chat, here's the unedited trannscript:
---
Purusottam Bhatta: Sir I am targeting IBPS RRB Office scale-II. Please let me know what is salary for this post and how to manage the time

Anil Nagar: Salary structure of RRB Officer Scale II is similar to IBPS PO. Time management again depends on your strengths, weeknesses and your strategy for the exam. You should understand that you have to clarify the cut-off in each section and also maximise the overall score.
---
romil: what is the eligibility criteria for IBPS Bank PO?

Anil Nagar: Education Qualification: Min educational qualification for applying to CWE is graduation degreeAge Criteria: 20-30 years. Relaxation for reserve categories is applicable.
---
ganesh-nadar: If attending classes for this exam helps dont rural students have a distinct disadvantage? are there any online classes

Anil Nagar: Hi Ganesh, it is true that rural students have a disadvantage as they lack the right guidance for the preparation. But, most of the good coachings offer their correspondence course and online test series also, which can be helpful for rural candidates.
---
Purusottam Bhatta: Let me how can I manage the time frame 150 minute 200 question for office scale II reasoning 40 questions 40 questions english 40 comp please let me know how can i mange the time such a manner that I can cover all questions to qualify with higher score? Thanking You Purusottam

Anil Nagar: Hi Purusottam, I am not sure which is the exam you are targeting. As far as IBPS PO is concerned, that pattern has changed from this time, and the allotted time is 2 hrs only... also the weightage is not same for each section. So, please clarify, are you preparing for IBPS PO Only?
---
deepak vasant baisane: for bank exam one should follow the guide book and basic concept of each section then practice mock test within the time limit

Anil Nagar: There are various books available in the market, but the problem is these books are for general competitions and cater to many exams including bank po. I would suggest that go for the study material of a reputed coaching like Bank POwer, where it is specifically made of banking and also involves in-depth coverage of all topics related to bank exams.
---
hezal: how to prepare for computer paper?

Anil Nagar: Computer paper is relatively easy. It includes basics of computer hardware, networking, databases, basic knowledge of operating systems (windows) and MS Office. You can refer to basic computer book of NCERT or get study material from a reputed coaching of Bank Exams
---
payal shah: Is coaching classes necessary for IBPS..?

Anil Nagar: It is not necessary, but yes, a good coaching class can definitely help you. See, there are two aspects, where a good coaching institute can help - 1. What to study (syllabus is so much that you need someone to guide you as to what to study and what not to) 2. Trick and shortcuts to do questions fast (a specialized coaching inst, will have good command on types of questions asked and shortcuts
---
rajat: where can i find the list of banks for IBPS?

Anil Nagar: You should read the detailed advertisement for PO 2013 Exam by IBPS -http://rediff.ly/260p2
---
Jenny Dsouza: what is the best time to do a study?

Anil Nagar: I feel, a candidate should devote atleast 3-4 hours daily, consistently for 3-4 months, to get success in IBPS exams. These 3-4 hours can be any time, evening, morning or afternoon. Doesn't matter much.
---
rajat: What is the salary of a probationary officer?

Anil Nagar: At present a newly joined Bank PO's Basic Pay is Rs.14,500. After merging the 60.15% DA as on 01.11.2011 to Basic Pay, it will be Rs.23,221. But Banks also give various allowances, which may depend on the location of posting. So, including these allocations, a PO may get in the range of Rs.28-30 thousand in a metro city
---
ganesh-nadar: Though banks ask for any graduate, do they prefer commerce graduates?

Anil Nagar: No such preference is given to commerce graduates. The process is very simple - a written online test and then personal interview. Candidates are selected on the basis of merit (combined written test interview)
---
payal shah: Please help me out on the coaching thing whether to do or not as I am confused..

Anil Nagar: Payal - I feel you should also consider that IBPS PO is a very competitive exam and you should not take any chance, even if it costs you some amount. In my opinion, good coaching classes can be really beneficial
---
ganesh-nadar: after passing this exams will there be an interview? how to prepare for that?

Anil Nagar: Interview preparation should essentially include - 1. Preparing your personal questions (like introduction, strengths, weeknesses etc) 2. Preparing about your work experience (if any) 3. preparing current affairs & Banking Terms
---