The total investor wealth in Indian stock market on Friday hit a record high of Rs 100 trillion.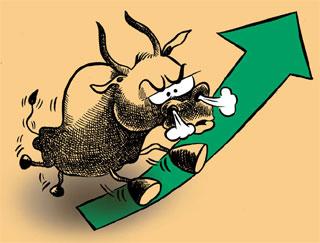 The Sensex and Nifty gained 1% to end at fresh record closing highs led by rate sensitive shares on hopes of a rate cut while falling crude prices also aided sentiment.
The 30-share Sensex ended up 255 points at 28,694 after hitting an all-time high of 28,822.37 and Nifty closed 94 points higher at 8,588 after touching a record high of 8,616.70.
Scaling a new peak, the total investor wealth in Indian stock market today hit a record high of Rs 100 trillion, marking a jump of ten times in little over a decade.
The total market cap of all BSE listed companies had crossed Rs 10 lakh crore mark nearly 11 years ago in 2003 and the Rs 50 lakh crore mark in 2009.
The 30 Sensex companies alone, which are among the biggest companies in the country, now account for nearly 50% or about Rs 47 lakh crore of total investor wealth.
In the broader market, BSE midcap index ended up 1% and BSE Smallcap index gained 0.3%.
Foreign institutional investors were net buyers in Indian equities worth Rs 389.73 crore on Thursday, as per provisional stock exchange data.
The rupee was trading lower at 62.01 compared with Thursday's 61.87 close. Month-end dollar demand from importers is likely to hurt the Indian unit.
All sectoral indices except IT ended in the green led by Bankex which gained nearly 3%. BSE Auto, Consumer Durables, Realty and Capital Goods indices ended up between 1-2% each.
Among the rate sensitive sectors bank shares gained on hopes that a rate-cut by the central bank would lead to revival in demand for credit.
Further, the government plans to reduce its stake in state-owned banks to 52% also boosted sentiment.
ICICI Bank, SBI, ICICI Bank, Axis Bank, HDFC Bank ended up 1-5.4% each. Mortgage lended HDFC ended with marginal gains.
Auto shares gained on hopes that lower interest rates on vehicle loans would lead to higher sales growth going forward. Tata Motors, Maruti Suzuki, M&M, Hero MotoCorp ended up 1-2.7% each.
ITC ended tad higher on reports about company's plans to invest about 9,000 crore in the next four to five years to increase its number of hotels to 150.
Other Sensex gainers include L&T and Tata Steel.
Oil prices plunged to four-year lows after the The Organisation of the Petroleum Exporting Countries (OPEC), at its meeting held in Vienna on Thursday, decided to maintain its production level of 30 million barrels per day despite weak global demand.
Among other shares, oil marketing companies – Bharat Petroleum Corporation (BPCL), Hindustan Petroleum Corporation (HPCL) and Indian Oil Corporation (IOC) ended higher between 3.6-9% after Brent crude fell $5.17 to $72.58 a barrel on Thursday.
Asian Paints ended 5.5% higher as the company would be a beneficiary with raw material costs linked to crude oil prices.
Airline shares such as Jet Airways and SpiceJet ended up 13-20% each as aviation fuel comprises nearly 40% of operating costs.
Taneja Aerospace and Aviation has locked in upper circuit of 20% at Rs 60.35 on BSE after the company said it has signed a contract with Indian Air Force, Nasik for upgradation of their MIG 29 aircraft.