Company co-founder and Chief Executive Officer Sameer Nigam reveals the firm's 'platform' strategy, monetisation, and future capital-raising plans in an interview to Yuvraj Malik.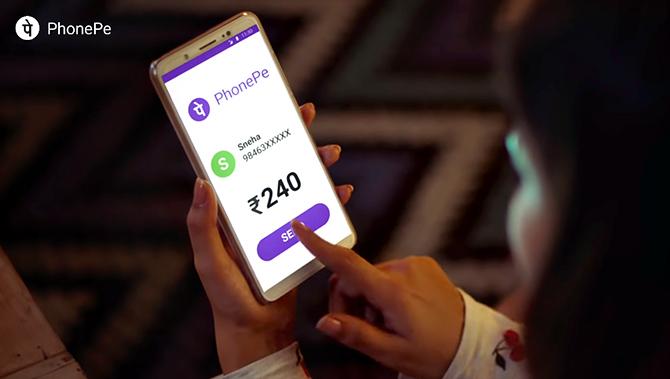 Walmart, which acquired Flipkart and in turn PhonePe last year, is excited about the prospects.
Growing massively, PhonePe is armed with funds.
Its co-founder and Chief Executive Officer Sameer Nigam tells Yuvraj Malik about the firm's 'platform' strategy, monetisation, and future capital-raising plans.
Edited excerpts:
In the four years of PhonePe, how have you differentiated yourself in a sea of payments apps?
We want to be India's largest transaction platform, anchored on payments.
We could have been anchored on social, chat or commerce.
I think DNA-wise we are very different from other payment companies, who were very big on "wallets".
Wallet companies are trying to create a closed ecosystem.
For us, payments were a capability to be solved, so that customers come to the platform.
You said payments were an entry point.
But, to what?
It is an entry point to shaping a transaction platform.
We believe that the cost of acquiring customers and distributing services digitally is too high.
There are two natural monopolies -- one on advertising (Google, Facebook) and one on distribution (Play Store and App Store).
This is where our Switch platform came in.
When we say we want to be the largest transaction platform, we want every business to be able reach Indian customers.
We want them (digital businesses) to have a democratised customer acquisition and engagement platform, the best of what mobility can offer.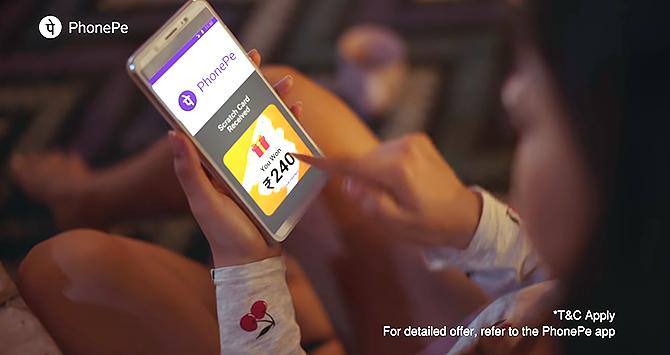 How are you going to monetise the 'platform'?
Today, instead of cashbacks, we are giving merchant coupons.
I will give you Rs 100 or Rs 200 voucher at a store you actually use.
So rewards can be monetised, brand ads can be placed.
People also want to break the clutter by placing their product on the top.
Then you can distribute financial services, where you charge a distributor fee.
In the tech world, it is a balancing act.
You could actually offer intricate targeting to merchants (and offline businesses), but we decided against it.
Our advertisers and merchants can't target based on cohort targeting, they can only target based on location, which is city level.
We say, we will do the matching but it is blind to the merchant.
After financial service, what more products will be introduced?
We have launched only tax-saver mutual funds, other categories like liquid and debt funds will be added.
We will also launch insurance soon.
There is big opportunity in wealth management, the disposable income in India is increasing and people, this generation especially, is moving from savings to growth.
Tell us about your interaction with Walmart and how do they perceive PhonePe?
We have three people from Walmart on our board.
I met Judith once before the deal was closed and Dough when we was here recently.
When we went to the US for our board meeting, briefly met Greg Penner, Walmart chairman.
Very humbled meeting him.
Walmart is from Central America so a lot aggressiveness of the cost wasn't there.
At Walmart's shareholders meet, we were actually very pleasantly surprised that there was a lot of reference to PhonePe.
We are a very different business to what they have globally.
They don't have a tech platform play anywhere.
E-commerce is adjacent to payments, so when did the Flipkart deal, they understood the need and desire to play in this space.
What is the outlook for external fund-raiser?
We need capital to grow.
We believe we have something is good is going on here.
We need another 3-4 years and a maximum runway of $1 billion to achieve profitability.
For me profitability is very important and I want to make sure it is a viable business.
Our request to the board was how to get capital in a long-term sustainable basis.
There are two-three ways.
Existing investors, Walmart and Flipkart investors like Tencent, Tiger, can capitalise.
Other, from the outside, only is they add strategic value.
So we would not be inviting other financial investors.
The discussion is should PhonePe raise capital externally or keep getting capitalised through Flipkart.