Although large companies like Nestle, Dabur or HUL have been impacted by this slowdown in demand, it was the small, local players that have been hit harder.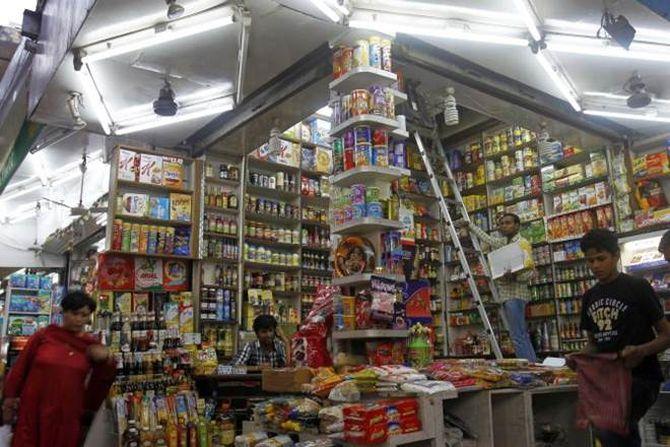 Recently, when Suresh Narayanan, chairman and managing director of Nestle India, was discussing macro-trends affecting the fast moving consumer goods (FMCG) sector, he did not hold back from expressing his concerns about rural distress.
Faltering sales of fast moving consumer goods manufacturers in the rural market could be the bigger concern for most, he said.
Some days later, Sanjiv Mehta, chief executive of the country's largest non-cigarette FMCG firm Hindustan Unilever (HUL), voiced similar concerns.
Mehta's HUL, which managed to maintain its July-September volume growth at five per cent, asserted that the sharp deceleration was led by a slowdown in rural areas.
Retail offtake numbers from market research firm Nielsen endorse these views (see: The Big Dippers).
It also throws light on a peculiar trend: The slowdown in the northern part of the country is significantly higher than other regions.
In the last quarter, volume growth in the largest of the four regional markets, plunged to meagre one per cent - the lowest in the country - from 17 per cent last year.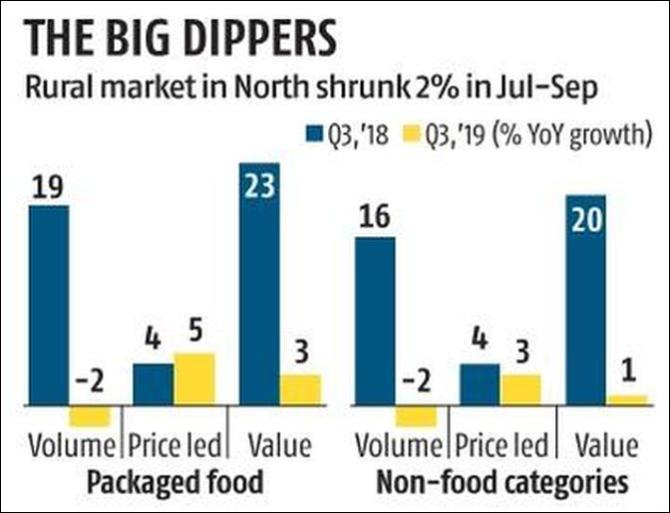 The FMCG market in the rural North shrank two per cent by volume.
Although large companies like Nestle, Dabur or HUL have been impacted by this slowdown in demand, it was the small, local players that have been hit harder.
Small players, who account for a third of sales for the region, grew only three per cent by value, compared to 35 per cent in the corresponding period last year.
Medium players, accounting for 24 per cent of sales, saw their business shrink by four per cent in the September quarter.
This has resulted in a churn that is now leading to a large number of players exiting the market.
During the quarter, Nielsen data shows, 2,000 new players entered the market but close to 2,300 existing players left it - a net loss of 300-odd players.
In July-September, 2018, nearly 1,100 FMCG firms had entered these markets.
The markets in the west, and east saw a significant fall in volume uptake as well.
Overall, while rural volume growth slumped to two per cent across the country, in urban areas, it fell to five per cent.
Consequently, the rural market, which accounts for 36 per cent of India's FMCG market by sales, contributed 60 per cent to the slowdown.
The growth in rural market has been slowing for the past few quarters, but it slipped below urban market growth in the April-June quarter.
Now, the larger companies with the resources to fight back have started working to arrest this slide.
Nestle, HUL, ITC, Dabur and Britannia have not only shifted their focus to rural markets but have started long-term projects to boost demand.
Principal among them is to expand the reach into rural hinterlands.
Nestle India, for instance, has begun expanding its direct distribution reach aggressively by adding more regions under its distributors' territories.
According to Narayanan, this project may enable Nestle to triple its direct reach in the next few years.
The exercise has already helped it reach over 50,000 villages directly and the aim is to double that number by 2022.
Nestle now aims to generate up to 35 per cent of its sales from the hinterlands in the next three years - a significant deviation from its long-standing "urban focus" strategy.
Market analyst firm Elara Capital noted in a recent report that the continued rural push by the country's largest food company may help it post over 10 per cent volume growth in the September quarter.
Nestle India is also preparing a new range of products and/or SKUs (stock keeping units) targeting rural consumers.
"The route to (the rural) market will have to be different (than the urban). We are actively pursuing different options" said Narayanan.
Based on localised feedbacks from its 15-odd clusters, the company is planning to come up with customised products for each region.
The clusters, each with its own marketing and product strategy team, is now helping Nestle focus on individual geographies separately.
Analysts at Elara added that FMCG firms like HUL and Heritage Foods, apart from Nestle, have better chances of posting strong growth in its core product categories as they are expanding their respective distribution reach.
Moreover, Britannia saw a recovery, especially in north and east India due to better rural market sales, led by an increase in lending by banks to its trade partners during the quarter.
Edelweiss Securities further said, HUL's deepening direct reach and product innovation initiatives may help it out-grow the overall market.
The company, for example, has increased the pace of product innovation in one of its top-selling brands - Lakme.
According to Sandeep Kohli, executive director, personal care, HUL, if earlier HUL was doing 5-10 innovations a year, now it has increased the number to 30-50 on Lakme.
Dabur India,which gets over 40 per cent of its sales from the rural areas, has been actively developing and expanding its distribution and storage infrastructure in the rural market.
The firm hired over 700 people to monitor and further develop its business and has brought 4,000-odd villages under its direct fold in early-2019.
The new wave of expansion in rural market is not without a rationale.
A larger direct distribution reach helps companies monitor the market better with lower response times.
It helps them address any potential slide in sales through customised promotional schemes and market activities.
According to market experts, between 2007 and 2013, the phenomenal rise in rural sales growth was a direct result of the distribution drive by multinationals.
Its effects have now tapered off.
"Now the companies need to go further, if they want to repeat the high double-digit growth performance in the rural India", said a senior analyst.
Photograph: PTI Photo