Despite sanctioning the loans, bankers are worried whether to disburse the loan because of absence of an investment grade rating.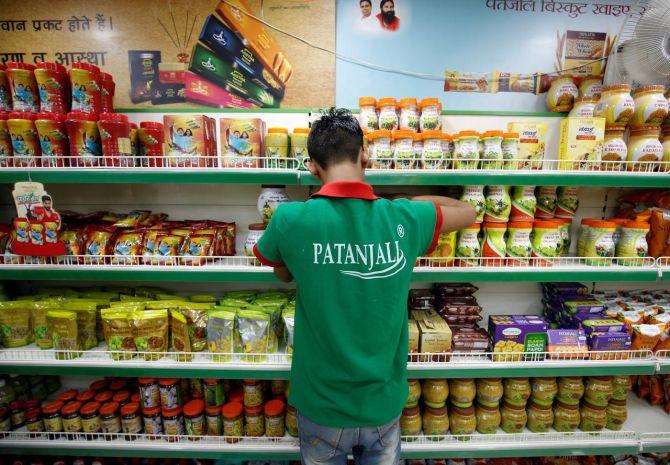 Bankers are jittery over Patanjali Ayurved's repayment, funding capacity of a fresh Rs 4,000-crore loan sought for Ruchi Soya acquisition after a rating firm downgraded Patanjali's debt saying there is no corporate guarantee offered by the parent firm for the loan.
Within days of the downgrade on October 17, Care, the rating firm, withdrew the ratings after a request by the company and a no-objection certificate was issued by the banks.
According to a banking source, the downgrade has raised questions about the viability of repayment of the loan.
"The existing bankers to Ruchi are again giving a loan for the acquisition by Patanjali.
"This fresh loan is being given after taking a haircut. Ideally, the fresh funding should come from a new lot of banks or overseas lenders.
"The matters may get complicated if the account were to again go bad," the source close to the development said.
According to Patanjali's plan, the banks would take a 65 per cent haircut on Ruchi Soya's Rs 12,100-crore dues.
Of the Rs 4,350-crore offer, banks will get Rs 4,240 crore of their dues and another Rs 110 crore is to be invested in Ruchi Soya's expansion post-merger.
Despite sanctioning the loans, bankers are worried whether to disburse the loan because of absence of an investment grade rating.
While placing the ratings of group flagship Patanjali Ayurved on 'credit watch with developing implications', Care said Ruchi Soya acquisition constituted 151 per cent of its net worth as of March 31, 2019.
Besides, Care said Patanjali Ayurved was not expected to provide a corporate guarantee or letter of comfort for the debt that was being raised to fund Ruchi Soya acquisition.
"The funding pattern of raising Rs 900 crore to be infused into the special purpose vehicle (SPV) by Patanjali for acquisition of Ruchi Soya remains to be seen.
"The SPV is in the process of obtaining final sanctions for raising debt from banks to fund the acquisition of Ruchi Soya," Care said on October 17.
This rating was withdrawn on October 24.
In July, the National Company Law Tribunal (NCLT) had cleared Patanjali's plan to acquire Ruchi Soya.
But in October, both Care Ratings and Brickwork Ratings downgraded Patanjali Ayurved's debt citing moderation in its interest coverage ratios and debt protection metrics owing to increased finance costs during FY19.
A Patanjali Ayurved spokesperson was not available for comment on Tuesday.
Patanjali is planning to acquire Ruchi Soya via a new SPV called, Patanjali Consortium Adhigrahan (PCAPL) and will merge it with Ruchi Soya after the acquisition.
The shareholders of PCAPL will get one share of Ruchi Soya for each that they hold in the former.
Patanjali will infuse Rs 1,105 crore in PCAPL as promoter contribution towards acquisition of Ruchi Soya and also proposes to raise new borrowings of Rs 3,233 crore in PCAPL.
The funds infusion from Patanjali Ayurved in the SPV will be as NCDs and preference shares aggregating Rs 900 crore. The group was to further infuse Rs 205 crore as equity.
Patanjali has already paid Rs 50 crore towards earnest money deposit and an additional Rs 150 crore was paid towards performance deposit as part of the NCLT process as equity infusion.
According to the rating firms, overall gearing of Patanjali will rise if it takes on more debt.
It may affect the capital structure and debt coverage indicators and is critical for the credit profile of Patanjali Ayurved, the rating firm said.
In FY19, the total operating income of Patanjali Ayurved was Rs 8,528 crore as compared to Rs 8,152 crore, a rise of 5 per cent.
The profit after tax (PAT) margins, however, remained on a similar level at 4.1 per cent in FY19 as compared to previous year's 4.2 per cent.
Photograph: Amit Dave/Reuters