In December 2016, the Supreme Court directed the central government to have a graded action plan to tackle the menace of air pollution. There are two plans - Comprehensive Action Plan and Graded Response Action Plan.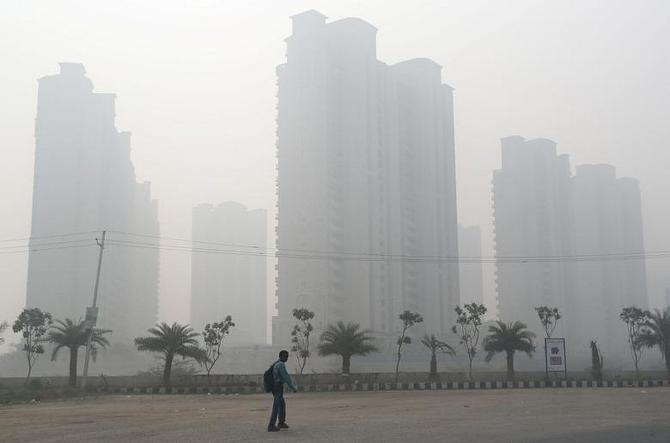 It is that time of the year again when air pollution peaks in Delhi-National Capital Region (NCR).
Stubble burning in the farmlands of Punjab and Haryana, coupled with a nip in the air, engulfs the region already grappling with high levels of vehicular pollution in a blanket of smog.
The air quality index (AQI), which is indicative of the air quality levels, has reached "very poor" this week.
On Thursday, the average AQI of Delhi was 322 and with that the Graded Response Action Plan has kicked in.
Business Standard decodes the action plan now in place to tackle air pollution, the restrictions from it and what citizens could do.
What are the action plans to curb and control pollution in NCR?
In December 2016, the Supreme Court directed the central government to have a graded action plan to tackle the menace of air pollution.
There are two plans - Comprehensive Action Plan (CAP) and Graded Response Action Plan (GRAP).
GRAP comes into force when air quality degrades.
In accordance with the stage of air pollution, it involves several steps that the governments in Delhi and its neighbouring states need to enforce.
This is an emergency response system devised to tackle pollution as it gets worse during winter. GRAP kicks in when the air quality level slips below moderate to poor.
CAP was introduced in 2018 by the Centre to work in collaboration with GRAP.
CAP involves a long-term action plan for reduction in pollutants that worsen air quality.
This includes a shift to cleaner fuels in transport and industrial sectors, better traffic management and increased use of public transport.
This plan also requires the NCR to divert transit truck traffic and check overloading.
When did GRAP come into force in Delhi NCR and what does it entail?
GRAP took effect on Thursday. According to a notification issued by the Environment Pollution (Prevention and Control) Authority (EPCA), several activities are now restricted in the NCR.
This includes a complete ban on running diesel generator sets in residential and industrial areas across Delhi, Noida, Greater Noida, Ghaziabad, Faridabad and Gurugram.
Large construction projects including highways and metro rail and industries in red and orange zones are mandated to give an undertaking to state pollution control boards that they will adhere to prescribed pollution control norms.
They will also need to follow directives of using cleaner fuel.
Besides, there will be daily monitoring of waste burning and dust control, especially in 24 identified hotspots.
Industrial waste, garbage dumping, and use of illegal fuel will be monitored and penalised.
Local municipal bodies across the NCR have been told to ensure mechanised cleaning of roads and streets to control dust.
"Emergency measures will have to be implemented at a scale across all wards and neighbourhoods with zero tolerance.
"This will require institutional and enforcement capacity, deterrence, and strong monitoring and surveillance system.
"This will also need system planning for waste management to prevent waste burning, stop use of dirty fuels in industry units and hotspot action," said Anumita Roy Chowdhury, executive director, research and advocacy, the Centre for Science and Environment.
How is GRAP different this year because of the Covid pandemic?
Every year one of the most prominent features of GRAP is restriction on the use of personal vehicles in Delhi.
The Delhi government started an "odd-even" plan in 2016 for plying less personal cars on the capital's roads. In 2019, it was enforced for 12 days between November 4 and 15.
However, with the Covid pandemic, there is a high probability that citizens would avoid public transport to ensure social distancing.
This exacerbates the problem of air pollution as vehicular emission is one of the major pollutants.
At the same time, bad air quality impacts respiratory health of people, who are already vulnerable because of the novel coronavirus.
"Social distancing requirement in public transport will pose a a special challenge this year as that will make intensification of public transport service difficult.
"Use of personal vehicles will intensify. For this, we need to carry forward the learning from the lockdown phase and institutionalise work from home, digitisation etcetera to reduce the need for travel," said Roy Chowdhury.
Photograph: Cathal McNaughton/Reuters