Thomas Isaac has been in and out of the national news in his role as Kerala's finance minister since 2018 for various path-breaking tax initiatives.
But it is 2020 that he has become more prominent, principally in the GST council.
Dilasha Seth and Shine Jacob explain why he is known as a 'people's leader'.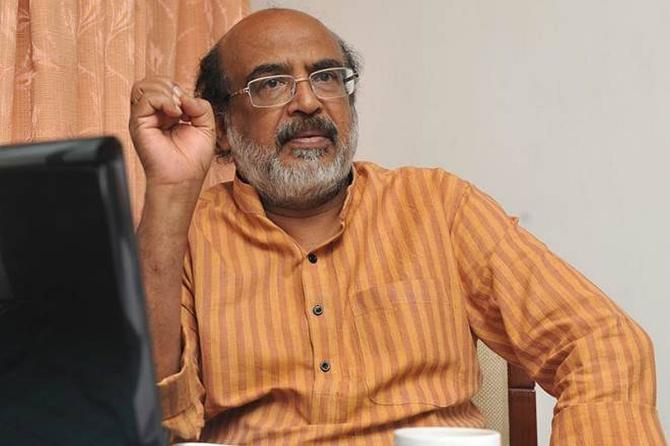 At the Goods and Services Tax (GST) Council, he is a symbol of democratic federalism.
For friends, he is a man of books. For his constituency, he is a people's leader.
Those who are close to him say Thomas Isaac is a socialist who puts his money where his mouth is.
Isaac has been in and out of the national news in his role as Kerala's finance minister since 2018 for various path-breaking tax initiatives.
But it is 2020 that he has become more prominent, principally in the GST council.
His socialist ideals have ensured that essential items mostly consumed by the poor were taxed the least and those consumed by the rich, including cars and air conditioners, were placed in the highest tax bracket.
The 68-year-old former economics professor pressed for increasing the highest tax slab to 30 per cent from the then proposed 26 per cent and lowering the tax on necessities to 4 per cent from the then proposed 6 per cent.
Considering his demand, the final GST slabs were reworked with 5 per cent being the lowest and 28 per cent being the highest.
Last year, he vociferously resisted the industry demand for a rate reduction on cars with the sector facing its worse slump in many years.
In 2020, the second-time Kerala finance minister has also emerged as the vocal leader of the group of leaders from opposition states -- West Bengal's Amit Mitra, Punjab's Manpreet Singh Badal or TS Singh Deo of Chhattisgarh -- who are pressuring the Centre to pay the states long overdue compensation cess of Rs 2.35 trillion to meet shortfalls in tax revenues.
States need this money badly to combat shrinking revenues owing to the pandemic.
Isaac has been at the forefront of rejecting the "options" provided by the Union finance minister to cover this shortfall -- to borrow from the central bank at "a reasonable interest rate" or from the market via a "special window".
Though some BJP-ruled states have accepted one or other of the options, Isaac spoke for the nay-sayers by succinctly dismissing both as "unacceptable".
The roiling controversy over compensation cess is not Isaac's only run-in at the GST Council.
Last year, he led the Council to its first-ever vote -- before that, all decisions had been taken via consensus.
The issue was whether there should be conti­nuation of dual rates on private and government-run lotteries.
Isaac and several others wanted the two taxed at 28 per cent and 12 per cent respectively.
After much resistance from other states, Isaac insisted on a division in the Council, which decided on a uniform 28 per cent rate.
The arguments within the GST Council are one aspect of the welfarist-inclined Isaac's differences with the Centre.
A strong proponent of Keynesian economics, he has been urging the prime minister to spend more to overcome the pandemic-induced economic slowdown.
In an interview as early as April this year, he urged the govern­ment to raise the fiscal deficit and allow states to borrow directly from the Reserve Bank of India.
His state has certainly led by example in the spending department.
Despite being fiscally stressed, Kerala was the first state to announce a Rs 20,000-crore Covid-19 relief package in March and pumped more money into the economy in August.
It has made advance payments of salaries and pensions to govern­ment employees and social security pensions ahead of the festival season.
The state spent close to Rs 1,650 crore for social security pension payments and Rs 350 crore for bonus to govern­ment employees, besides spen­ding another Rs 1,200 crore to distribute Onam kits to 8.8 million under-privileged families.
He scored another first, he pushed through a special 1 per cent flood cess under the GST regime on goods and services transacted in Kerala for a period of two years to make up for the large-scale damage due to the natural calamity in 2018.
However, he kept essential commodities in the 5 per cent GST bracket out of the additional levy ensuring that the poor are not burdened.
Services such as hotel food, air-conditioned trains and bus ticket bookings were also exempted, keeping in mind businesses that were most affected by the floods.
It took almost a year to get the Flood Cess implemented.
Isaac is a welfarist of somewhat austere mould and unafraid to show it.
He is, for instance, a strong believer in the "sin tax" on luxury items and foods.
In 2016, a year before the introduction of GST, he introduced a headline-catching 14.5 per cent "fat tax" on burgers, pizzas and other junk food served in branded restaurants.
Access to food and work have been leitmotifs of his political work.
The Janakeeya Bhakshana Shala (or people's restaurant) that he started in his constituency ensured that free food is supplied to over 750 families on a daily basis.
Already two such hotels operate in his Alappuzha constit­uency.
He is also considered the brains behind the Kerala Infrastructure Investment Fund Board in its current form and also one of the people who initiated organic farming in the state.
Having recovered from Covid-19, which he contracted in Septe­mber, Isaac's next move in the GST Council will be closely watched.
Photograph: Thomas Isaac on Facebook.