India is the second largest buyer of Iranian crude, after China.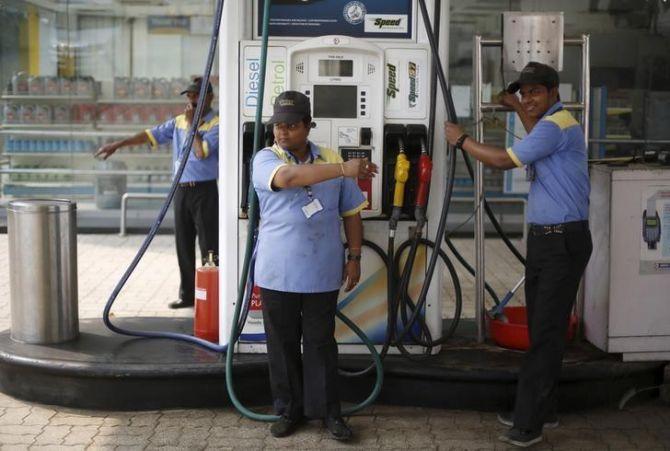 The government might decide to cut the excise duty on petrol and diesel but only after further stabilisation in the goods and services tax (GST), in the backdrop of global crude prices reaching a 40-month high after the US pulled out of a deal with Iran.
Finance ministry officials said the impact of crude oil on the fiscal and current account deficits and on retail inflation will depend on how much longer the high prices persist.
Unless there is a sharp fall in prices, said an official, a decision to reduce excise duties on petrol and diesel was likely.
"Any such decision will not be taken immediately. The timing depends on what revenue proceeds we get from the GST e-way bill and from the notices sent to companies on GST mismatch. So, we have to wait a month or so," the official said.
The Centre levies excise duty of Rs 19.48 a litre on petrol and Rs 15.33 a litre on diesel.
Governments - Centre and states - collected a little over Rs 1 trillion from GST in April, the highest figure for a month till now.
It is yet to be seen if this trend sustains, as April's also had a portion of arrears for previous months.
Petroleum minister Dharmendra Pradhan has been asking for a value added taxes by states.
"Action on petrol and diesel taxes will have to be taken by Centre and states," the official quoted above said.
It is learnt the chief economic advisor, Arvind Subramanian, had a meeting in the finance ministry, regarding crude oil prices.
"The risk of these remaining high for a longer period of time has increased. We will have to observe global oil prices for some more time before a policy response by India," said an official who attended the meeting.
Meanwhile, the government did not see much impact of US President Donald Trump's decision to pull out of the nuclear deal with Iran on oil trade with the West Asian country, as other nations -- China, France, Russia, the European Union -- are still part of what is known as the Joint Comprehensive Plan of Action.
"As per the commitment, we are going to import more crude from Iran (compared to last year). This is a unilateral sanction by the United States. Last time, even when the European Union and others also imposed sanctions, we had imported from Iran," said a senior official.
During the previous round of sanctions which ended in 2015, India was routing its payments through Turkey's Halkbank.
The official added that even after the sanctions, the payment to Iran is done in euros, not in dollars. Hence, US sanctions will have minimal impact.
On Wednesday, Brent crude prices, which have the highest weightage in the Indian crude basket, touched its highest since November 2014 at $77.2 a barrel, as a fallout of the US pullout.
The Indian basket was $71.6 a barrel on Tuesday. The 2018-19 Union Budget was prepared on an assumption of an average price of $65 a barrel for the year.
On other areas of trade, Premal Udani, past chairman of the Apparel Export Promotion Council, said: "Iran is a relatively prosperous country, due to oil receipts, and has a huge demand for outside products, apart from providing the opportunity to access the wider Central Asian region. However, prohibitively high import duties and the threat of further sanctions continue to exist."
While Indian export of man-made textiles are slowly increasing, Indian companies have been unable to access the Iranian market in pharmaceuticals, a senior commerce department official said.
On merchandise trade, both governments have been in talks, he added.
The US decision might have a longer term impact in the context of India's energy import only if the other signatories follow, officials said.
Iran is the third largest supplier of crude oil to India, after Saudi Arabia and Iraq.
For every $1 rise increase in crude oil prices, the impact on India's current account deficit is likely to be around $1 billion.
India is the second largest buyer of Iranian crude, after China.
In February, India had promised Iran to increase oil import from 205,000 barrels per day in 2017-18 to 396,000 bpd in 2018-19, during the visit of Iranian President Hassan Rouhani.
Photograph: Adnan Abidi/Reuters