'Expenditure on gold jewellery in Kerala is the highest in the country.'
'But the robust demand has been affected by the floods.'
Rajesh Bhayani reports.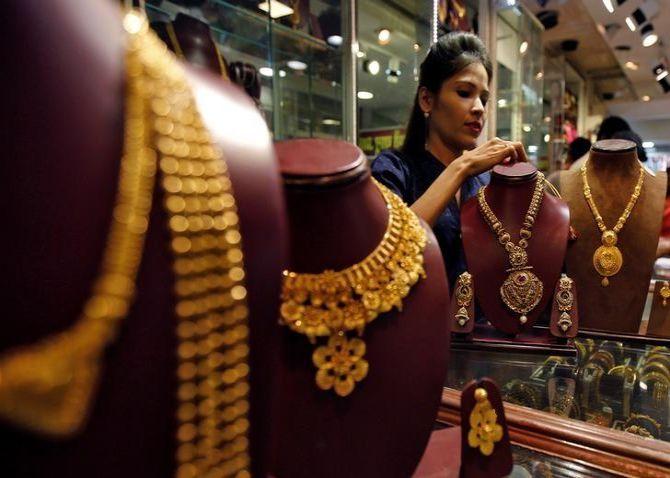 This year's gold imports are any way estimated to fall 15 per cent to around 100 to 150 tonnes.
Kerala's demand for gold jewellery is estimated to be around 12 to 15 per cent of the whole of India's demand of around 600 tonnes for jewellery.
In flood-hit areas, the first priority is rehabilitation and gold could be the best asset to encash.
There is also a possibility of default on loan against gold pledged by poor and middle class people in the time of crisis like this.
So far as gold loans are concerned, companies providing these loans and the banks are thinking of recovering default amounts by selling the gold pledged to them as collateral, but under the present circumstances, the recovery is looking impossible.
"It is a fact that the per capita expenditure on gold jewellery in Kerala is the highest in the country. But that kind of robust demand has been affected by the recent floods," says Ahammed MP, Chairman, Malabar Gold and Diamonds.
"The market sentiment in Kerala is extremely low at the moment as people are struggling to deal with the aftermath of the devastating flood," Ahammed adds.
"We have posted a modest 6% growth in jewellery sales in Kerala in August," Ahammed says, "as against the usual growth rate of 12 to 15 per cent."
According to industry sources dealing with the Kerala market and analysts tracking the gold, given the fact that the state is a big market for gold, several people use the yellow metal as collateral for getting finances.
There is possibility of large-scale defaults in repayment and pledged stock could come for auction augmenting the supply of gold.
"Some parts of the state which has not been affected much by the floods have started buying jewellery for festivals and marriage," says an industry official from Kerala.
"We see a huge number of flood-affected people selling gold and jewellery to generate cash to meet rehabilitation fund requirement," explains an analyst tracking gold movement, adding that the selling would augment supplies.