The precious metal lost Rs 700 in last three days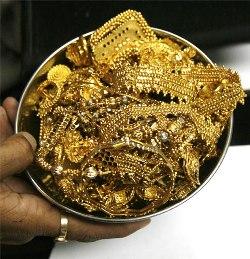 Tracking a weak trend overseas and absence of spot demand from jewellers, gold continued its slide for the fourth straight day as prices slumped by Rs 300 to trade at fresh four-year low of Rs 25,250 per ten grams in the national capital on Wednesday.
Silver also eased by Rs 200 to Rs 34,100 per kg on reduced offtake by industrial units and coin makers.
Sentiment remained bearish on weak global trend where it retreated for the 10th day in New York as Goldman Sachs Group predicted further decline in its prices, bullion traders said.
They said deferring of buying by retailers as well as jewellers at the local market on expectations of further fall in the precious metal and shifting of funds towards the equity market, too kept pressure on prices.
The rout in gold is being driven by speculation that the US may raise interest rates this year, diminishing the appeal of the metal and strengthening the dollar.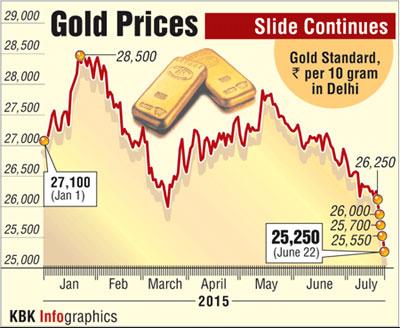 Globally, gold lost 1.3 per cent to $1,089.70 an ounce and silver lost 0.7 per cent to $14.73 an ounce.
The precious metal slid to $1,086.18 an ounce on Monday, the lowest level since March 2010.
In the national capital, gold of 99.9 and 99.5 per cent purity slumped by Rs 300 each to Rs 25,250 and Rs 25,100 per 10 grams respectively, its weakest level since August 8, 2011.
The precious metal lost Rs 700 in last three days.
Sovereign, however held steady at Rs 22,500 per piece of eight grams.
Tracking gold, silver ready fell by Rs 200 to Rs 34,100 per kg and weekly-based delivery by Rs 100 to Rs 33,850 per kg.
Silver coins, however, continued to be traded at previous level of Rs 49,000 for buying and Rs 50,000 for selling of 100 pieces.