A Ganesh Nadar/Rediff.com attends the finance minister's presser in Chennai to tom-tom the government's achievements in its first 100 days in office.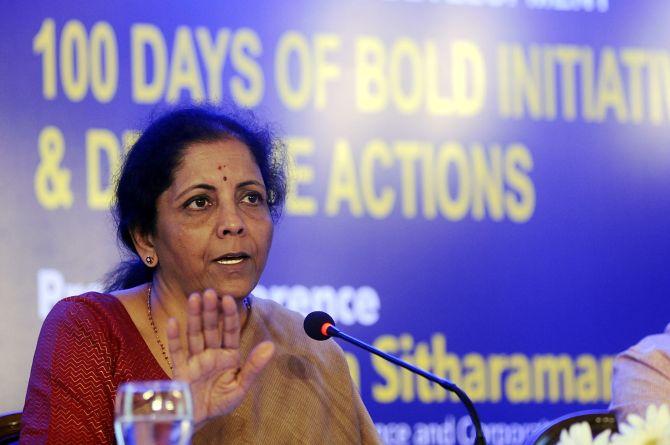 The Kathipara bridge in Chennai is one of a kind. When you see it from the air it is like two 8s placed alongside with vehicles going in every possible direction; you don't know where they are coming from and where they are going, but they keep moving freely without a single signal.
On Tuesday, Finance Minister Nirmala Sitharaman addressed a press conference at the Le Meridien hotel by the side of this unique bridge.
She was there to tell us about the government's achievements in its first 100 days in office.
There were plenty of posters of Prime Minister Narendra Modi inside the hall, and a few of the FM too. There was a PowerPoint presentation where Sitharaman was not present even on a single slide. No prizes for guessing who was there.
She also told us that we would get a printout at the end of the press conference of what she was going to say, so presumably one need not take notes and could instead focus on what she was saying.
During the question-answer session after her presentation you realise that Nirmala Sitharaman has an intricate understanding of the Kathipara bridge where you can keep going in circles.
The first question was about the automobile industry problems. "We have met the industry leaders and we are considering their suggestions, as of now we are giving 30% depreciation when you buy a car." She didn't mention that to avail of this depreciation you had to first buy a car -- which people were not doing.
"The millennials don't buy cars, they go in Uber and Ola," she declared next, forgetting that both Ola and Uber don't own cars but use cars that someone had bought. She also did not mention that millennials may not earn enough to be able to repay a car loan.
About job losses, the hot topic of the day, Sitharaman declared that they had created innumerable jobs by giving out Mudra loans, but since they had no data on it she was not going to tell us how many jobs were created.
There was a question on paring the 28% GST levied on vehicles. "There is a GST Council which decides, we will have to wait for their decision on how they are going to deal with the automobile crisis."
When one journalist pointedly said that 28% GST and 18% cess were killing the auto industry, her reply was classic Kathipara -- going round in circles. "Two years back they were paying these taxes and doing very well."
One journalist wanted her to know that the nation was living in fear as what happened in Kashmir with abrogation of Article 370 could happen to any state. "Abrogation of Article 370 was in our election manifesto and no other state has Article 370, so what are they fearing?" she demanded to know.
When the journalist wanted to know about restrictions in Kashmir she just ignored the question.
Then there were the loyalist television channels who asked the right questions. One wanted to know what the government was going to do to Rahul Gandhi who was widely quoted in a dossier Pakistan had given to the UN on Kashmir.
"It is the oldest Opposition party, they should be responsible in what they say," came her reply. Not just the oldest Opposition party, the Congress is also the nation's oldest political party.
Another loyalist charged that Amnesty International was distributing $52 million to create fake videos on Kashmir. "I am not aware of any such videos, you have brought it to my attention," she said.
A scribe said the people of Andhra did not want their Andhra Bank to merge with Union Bank of India. "I am not aware of it." But they have written a letter to you, added the persistent journalist. "It hasn't reached my hands and so I don't know why they are protesting. When it comes to me I will reply."
Some 50,000 small industries have closed down in Tamil Nadu, and all were involved in their family industry for years. Some 200 spinning mills have also closed down, a young woman pointed out.
"We are identifying clusters of traditional business and we will help them when the district officials inform us, the textile business people are meeting me today, will help them too." She didn't mention what exactly she was going to do -- it was the turn of the journalists to go around on the Kathipara bridge.
She continued answering questions in this roundabout manner till the bureaucrat accompanying her interrupted: "Thank you Madam, you answered too many questions."
What he failed to mention is that we were nowhere the wiser after the press conference.