A nine-day Kashmir trip ended on a sour note for the Shah family of Ahmedabad with an unscheduled diversion and an expensive road ride back home.
The Shahs were among hundreds of passengers whose travel plans went awry with Go First suspending all flights till Friday.
"We were supposed to travel from Srinagar to Ahmedabad via Mumbai on Tuesday.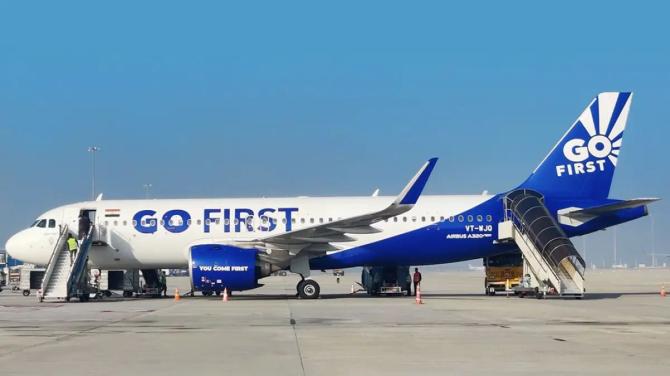 "But our Mumbai-bound flight got diverted to Surat," said Haren Shah, who is a senior citizen.
"After spending three hours inside the aircraft at Surat, we landed in Mumbai and had to argue for another three hours with the airline staff for a refund.
"Each passenger, he adds, was given Rs 1,500 on account towards refund.
"Finally, we hired a car at 2 am, spending Rs 19,000 to return to Ahmedabad."
Shah, who was returning from a holiday along with his wife, said the airline staff kept giving excuses regarding the refund.
"First they said seven days and then two. We are exhausted now and will ask our travel agent to claim it for us," he added.
The passengers allege there was little information about the diversions and cancellations from the airline.
"We got to know that the Mumbai-Ahmedabad flight had been cancelled only after we had reached Srinagar airport.
"The airline staff promised that alternative arrangements would be made in Mumbai, but there were none," complained Shah's co-passenger Vipul Joshi.
The Srinagar-Mumbai flight was among the three flights that were diverted after being denied landing clearance in Mumbai, complained the Go First staff.
Another Delhi-Mumbai flight was diverted to Surat, while a Varanasi-Mumbai flight was redirected to Ahmedabad.
A fourth aircraft coming from Dehradun landed in Mumbai after declaring a fuel emergency.
Eventually, the other diverted flights too returned to Mumbai later in the evening.
Mumbai International Airport Limited declined comment.
A Go First spokesperson, too, did not respond to Business Standard's queries on the issue.