At over 6 per cent, most states in October had inflation rates above the Reserve Bank of India's target band of 2-6 per cent.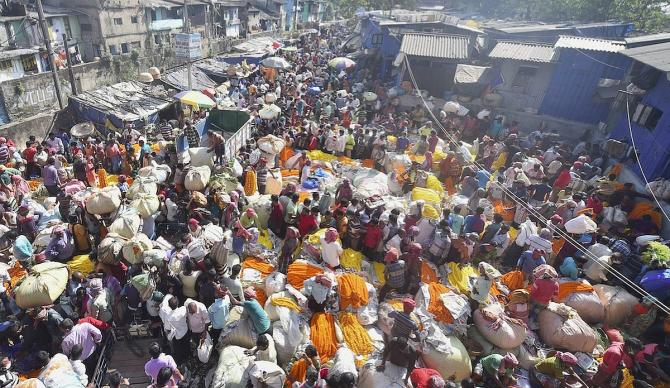 Four states — Andhra Pradesh, Odisha, Telangana, and West Bengal — saw the maximum rise in prices in October, with retail inflation rate in double digits against the national average of 7.61 per cent — which was a six-year high.
Comparing this to January, when inflation at the national level — at 7.59 per cent — was closer to October's figure, shows a different trend.
In the first month of this calendar year, none of the states had inflation rates in double digits, highlighting that the price rise was more evenly distributed among states in January than in October.
In September, only West Bengal had a double-digit inflation rate.
Rural most affected
In October, all the four states had inflation rates over 10 per cent in rural areas.
Another state not in the list — Chhattisgarh — also had 10.19 per cent inflation rate in rural areas, but with urban areas at 7.01 per cent, the overall price rise was recorded at 8.95 per cent in the state.
Only West Bengal among these states had double-digit inflation rate in urban areas, besides Bihar, which witnessed overall inflation rate at 9.76 per cent, almost touching double digits.
Odisha and Chhattisgarh also had a wide variation in inflation rates in their rural and urban areas.
While villages in Odisha saw prices rising 11.13 per cent, cities and towns witnessed a 7.61 per cent rate.
The rural areas of Chhattisgarh saw 10.19 per cent inflation rate, while urban areas witnessed 7.01 per cent.
Besides Bihar, Assam — at 9.26 per cent — also recorded inflation over 9 per cent but less than 10 per cent.
Aditi Nayar, principal economist at ICRA, said, "Different timelines for extension of localised lockdowns, variation in availability or urban and rural labour, as well as a differentiated pace of economic revival, could have contributed to higher inflation rates in some states."
Most breach RBI target
At over 6 per cent, most states in October had inflation rates above the Reserve Bank of India's target band of 2-6 per cent.
Only states such as Delhi, Rajasthan, Himachal, Punjab had inflation rates less than 6 per cent.
The RBI is mandated by law to keep the inflation rate within the 2-6 per cent range at the national level.
October was the fifth straight month that saw inflation above the RBI's mandate.
If imputed inflation rates for April and May are also taken into account, October was the seventh month in a row to breach the upper band of the RBI's target.
Imputation means prices of some groups are taken as substitutes of those of similar segments (and assorted accordingly) for which information is not available.
This happened as the country was under a lockdown in April and May.
While the market expects headline inflation to ease to 4.2 per cent in Q4 from 6.6 per cent in Q2, Motilal Oswal has estimated inflation to remain at 6 per cent in December and January before rising back to 6.5 per cent by March and staying at 6 per cent till September.
Photograph: PTI Photo