Finance Minister Pranab Mukherjee on Wednesday called for flexibility in the framework that the International Monetary Fund (IMF) is in the process of creating, to help countries manage large capital flows that could put economies at risk as they come out of the global financial crisis.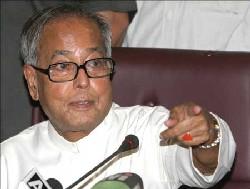 "IMF has come out with a framework but what I feel is that this framework for managing the capital flows requires more intense discussions and further work is required. And I do feel that if there is a global framework, with adequate flexibility left to the individual countries, (then) perhaps the problem would be checked better," he said.

Mukherjee, who was joined by French Finance Minister Christine Lagarde, Japanese Finance Minister Yoshihiko Noda, Deputy Managing Director of the IMF Naoyuki Shinohara and Asian Development Bank President Haruhiko Kuroda, was speaking at a session on the reform of the international monetary system.

Noting that the flow of capital globally was becoming uncertain and unpredictable, a situation often harmful to developing economies, Mukherjee suggested the problem would have to be "tackled both at the flowing end and at the receiving end".

"At the receiving end, we shall have to follow it (up) with prudent macro-economic management and having a well-regulated market, where there is certainty, there is predictability.

And, each country should have flexibility to adjust its capital flow keeping in view its requirement and the institutional arrangement which it can put in place at that particular point of time," he explained.

Apart from having well regulated markets, there was also a need to carefully analyse the nature of capital flows into economies.

"If it is poor, we shall have to ensure that it can be restricted by the application of different fiscal measures. It will not be one set of principles. Perhaps, it will have to be multiple set of principles combined together because the problem is too complex," he said.

"It is not as simple as the earlier days when the capital deficient countries would receive capital and provide a red carpet reception. It's not like that. It's not that type of scenario today," Mukherjee added.

Chiang Mai initiative

Meanwhile, the finance ministers of the 10-member Association of Southeast Asian Nations (Asean), China, Japan and Korea, together known as Asean + 3, today decided to initiate a study on the design of a possible crisis prevention function for the Chiang Mai Initiative Multilateralisation (CMIM), a multilateral currency swap agreement.

The grouping also expects the early operationalisation of Singapore-based ASEAN+3 Macroeconomic and Research Office, which will "monitor and analyse regional economies" and "contribute to early detection of risks, swift implementation of remedial actions and effective decision making of CMIM," a statement noted.