A project led by Hitachi India will help AIIMS streamline operations and reduce power consumption.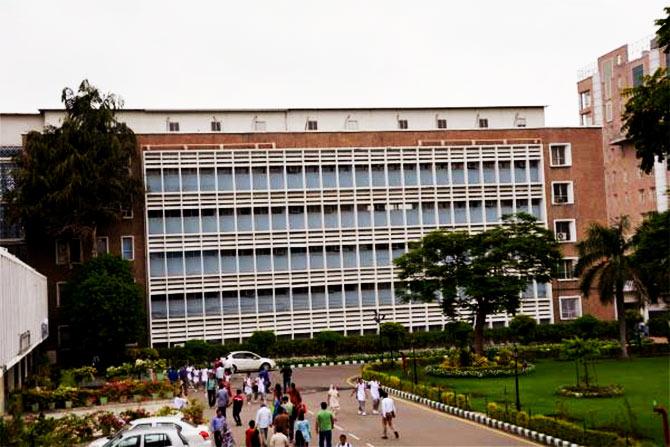 As a casual visitor, you would argue that the All India Institute of Medical Sciences (AIIMS) in the national capital is a hotbed of activity and chaos on any given day. At its calmest moments, it resembles the Rajiv Chowk metro station at peak hours.
You could be forgiven for thinking there is no method to the madness, except that there is.
Over 33 lakh outpatients are treated at the facility every year. On a daily basis, there are over 800 doctors at the hospital. Four thousand nurses are on its roll. Two lakh plus patients are admitted in a year, and close to 2 lakh surgeries are performed in the same period.
No one has counted the footfall, but suffice to say that thousands of people enter and leave the premises daily.
In this milieu of intense daily commotion, Hitachi India is working on a "Green AIIMS" concept by which the Government of India -- in collaboration with the Japanese government -- aims to reduce the power consumption at AIIMS by 30 per cent over the next three years.
After a feasibility study in 2015-16, the main project commenced in March 2017.
The ministry of health and family welfare is facilitating the project, which is to be concluded by March 2020. The funding is coming from the Japanese government. In fact, a decision on its funding was taken following Prime Minister Narendra Modi's visit to Japan in 2014.
Shusuke Onodera, head of the healthcare business for Hitachi (it sells medical equipment like MRI and CT scan machines) in India, says the project will have two distinct modules. Close to 25-30 people from Hitachi, Japan, are likely to fly to India to work on the project.
In the first phase, Hitachi will install a new photovoltaic power generation facility, update existing facilities such as chiller, replace the LED lighting system, and build a system to carry out control, grasp and monitoring of status of energy consumption of the entire hospital. A solar power panel will also be installed.
Hitachi's engineers, who did the feasibility study, found that some of the existing equipment at AIIMS are very old and as a result, underperformance is common. This leads to a higher consumption of power than ideal.
But, the most important change -- from patients' and doctors' point of view -- is likely to come next year in the form of a common IT platform that will allow doctors to access all test results conducted on the same patient by different departments on one computer.
As anyone who has been to AIIMS will testify, there are endless lines of patients waiting, no matter which department one heads towards. This is partly due to the sheer volume of patients, but it's also partly due to the inefficient functioning of the system.
As things stand today, patients' data are stored individually and there is no system to access all tests done on the same patient within the hospital. So, if a patient has had an MRI, a CT-scan and other tests, they are all stored separately, leading to significant delay.
"Individual reports have to be collected -- usually physically -- from each department for a patient to get a final diagnosis from the doctor under whose care he is," explains Onodera.
Hitachi will help them introduce a common platform that will eliminate this. It will also accelerate electronic management of medical image data by introducing energy-saving IT equipment. This will be done in 2018.
After the new system is installed, the project will monitor closely how much time is being saved in the processes. Similarly, it will assess the output of the doctors.
"So, If a doctor who was seeing 100 patients in, say, one week can now see 120 or 130, we can measure how much the system has helped," says Onodera.
Onodera says the project is quite challenging -- given how busy AIIMS is on any day -- and that setting up systems for a new hospital will be far easier than doing it in a running facility. "You cannot, for instance, switch off the air conditioning system for a day."
Engineers, therefore, will work day and night to make sure the current operations are not disrupted in any way. Once it succeeds with AIIMS, the model can -- and is likely to -- be replicated at other government hospitals.
Hitachi has conducted similar projects with hospitals in Japan and has achieved a reasonable degree of success with them.
The AIIMS project will be a test case for India.