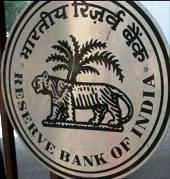 Struggling hard to control surging inflation by making credit dearer, the Reserve Bank of India has got a peculiar suggestion: focus on counterfeit currency to fight spiralling prices.

The prescription came through an application under the Rights to Information Act by an activist from down-south Kerala state.

"In our country, where unaccounted and forged money are prevailing, if we ensure the security of the notes seriously, we can easily put the price index to a low level," according to R Murali's application to the central bank.

To a query on what action RBI has taken in this regard, the latter refused to answer, saying this is not information that could be given under the RTI Act.

The applicant also suggested a change in the design of the notes and the circulation of the new-look ones to offset the menace of the conterfeit currency floating in 'large scales'.

The central bank refused to answer this too.

However, RBI did inform the applicant that the process of strengthening design and security features was completed earlier in 2005 and the central bank periodically reviews these issues.

There is no official estimate of the fake currency in circulation, thus making it difficult to assess its impact on fuelling inflation,
it added.
However, earlier this year, Global Financial Integrity had said the counterfeit rupee was becoming a cause of concern in India.
"Fake rupees are believed to be printed in Pakistan and then channelled through Dhaka, Bangladesh and Bangkok, Thailand into Kathmandu," according to its February report on 'Transnational Crime in the Developing World'.
The report had said Indian authorities estimate that as many as 400 million fake rupee notes with a value of some $9 million are in circulation in the state of Uttar Pradesh alone.
Also, fake currency dealers in Nepal projected in 2009 that India would, by 2010, see the circulation of fake currency with the face value of nearly Rs 10,000 crones ($2.2 billion).
RBI, in November 2009, had instructed banks to reissue notes in the denominations of Rs 100 and above over their counters or through ATMs -- only after machines checked and confirmed their authenticity. For this purpose, banks should use such machines in all their branches having average daily cash receipts of Rs 50 lakhs (Rs 5 million) and above, the central bank had said.
This year, wholesale price-based inflation in India refused to come below the nine per cent mark till last month, despite successive rate hikes by RBI.
This, when the central bank had raised policy rates 13 times since March, 2010.