Among other segments, home broadband subscriptions have picked up and the virtual private network service, too, increased by around 15 per cent.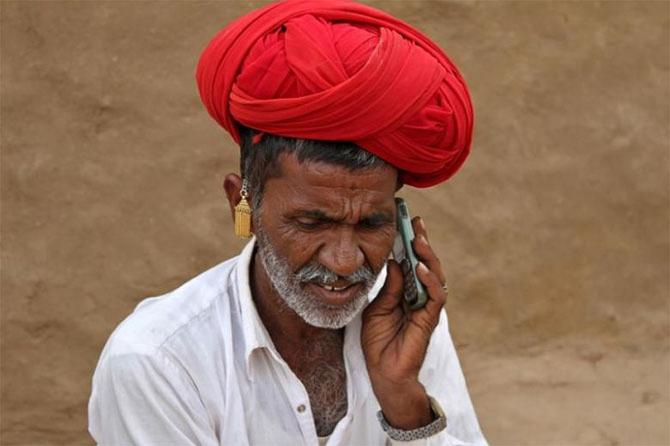 Unlike most other sectors, telecom services has seen a lower impact from the coronavirus (Covid-19) pandemic and is also among the early ones to recover.
A surge in data consumption and a rebound in new subscriber base are the major gains for the sector.
S P Kochhar, director general of Cellular Operators Association of India (COAI), has highlighted this trend.
"Network activity increased due to limitation of movement, logistics and distribution, leading to higher data consumption.
"The average monthly consumption of data per subscriber has gone up 20 per cent from 10.37 GB to 12.4 GB from September 2019 to April 2020 while voice usage increased by 3 per cent to 712 minutes during this period.
"New subscriber additions, which had seen a dip due to the restrictions, are now coming back to normal levels."
Among other segments, home broadband subscriptions have picked up and the virtual private network (VPN) service, too, increased by around 15 per cent.
Higher data consumption has helped average revenue per user (ARPU) and revenue of telecom companies, say industry experts.
"ARPU in April-May 2020 is likely to have increased as rising data consumption by 10-15 per cent during the period would have led to higher recharge of data-packs," said Prashant Tarwadi, director (corporates), India Ratings and Research.
Tarwadi said the lockdown has provided another strong fillip to the ongoing trend of 2G and 3G customers for telcos transitioning into 4G, driven by the needs for higher data download speed and limits.
Some of this is reflected in the fact that data subscribers account for more than half of Vodafone Idea and Airtel's customer base at the end of March quarter from 40 per cent levels a year ago.
Going ahead, the rating agency estimates that even in a scenario of no change in telecom tariffs, the 4G transition alone can add 6-7 per cent to the ARPUs of Bharti Airtel and Vodafone Idea in FY21.
However, should the 4G data prices rise (amid rising usage per customer), the addition to ARPUs can go up to 8-12 per cent.
Moreover, cost savings are expected from marketing, channel margins (lower gross additions and increased digital recharges) and other admin costs, said analysts at Emkay Global.
The sector has also seen its share of woes as the pandemic and the lockdown also brought about other changes in consumption. International roaming and enterprise business segments took a pause.
While the sector, being an essential activity, was up and running through the crisis, there has been some impact due to inability of customers to recharge their plans.
Slower pace of subscriber additions, due to lower smartphone sales, also had an impact.
Further, telecom companies extended validity of prepaid plans and low income customers were given additional benefits till May 3.
"Even on a conservative basis, the value of such benefits is more than Rs 600 crore," Kochhar said.
Unlike Tarwadi, Prashant Singhal, telecom expert at EY, believes that while data consumption has spiked by 30 per cent, it may not translate into higher revenues.
The decline in voice subscriptions would offset data consumption gains, and the slowdown in enterprise business could also have a bearing.
While the June quarter numbers will reveal the real picture, experts believe that price hikes are inevitable, given India has the lowest tariffs in the world.
Also, the balance sheets of telecom companies will require tariff revision.
Even on the demand side, shift in consumer behaviour, both for personal and official purposes, will ensure increasing data and voice traffic for telcos.
And all this is being reflected in telco valuations.
Singhal added, "The sector remains resilient, and the accelerated shift in digital adoption will drive revenue and profitability.
"The valuation of a few global telcos is already factoring this growth, with ratios such as enterprise value to Ebitda spiking by 10-15 per cent in the past six months."
Photograph: Himangshu Sharma/Reuters