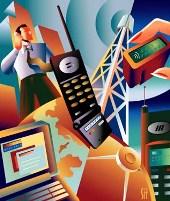 The government said on Friday communications industry has been growing at an annual average growth rate of 31.07 per cent during the last three years with total number of telephone connections rising to 95.14 crore at the end of March 31, 2012.

"The total number of telephone connections have increased to 951.35 million as on March 31, 2012 from 429.73 million as on March 31, 2009," Minister of State for Communications and IT Milind Deora said in a written reply to Rajya Sabha.

He said the industry grew at 44.57 per cent in 2010, 36.22 per cent in 2011 and 12.40 per cent in 2012.

"The annual average growth rate during the last three years is 31.07
per cent," Deora said.
On a query if the expansion of industry is dependent on supply of imported equipment, Deora said presently, wireless equipment with sufficient value addition are not being manufactured in the country.
However, to promote telecom equipment manufacturing within the country, the government has taken various steps.
The National Telecom Policy-2012 has the objective to provide preference to domestically manufactured electronic products in procurement, consistent with WTO commitments.
The government proposes to give 50 per cent to 100 per cent preferential market access for domestically manufactured telecom equipment with minimum value addition of 25 per cent to 65 per cent, he said.