Unlike global majors like Lindt and Godiva no standalone Indian chocolate boutiques have expanded into a national chain yet. ITC plans to change that with its luxury chocolate brand Fabelle, says Avishek Rakshit.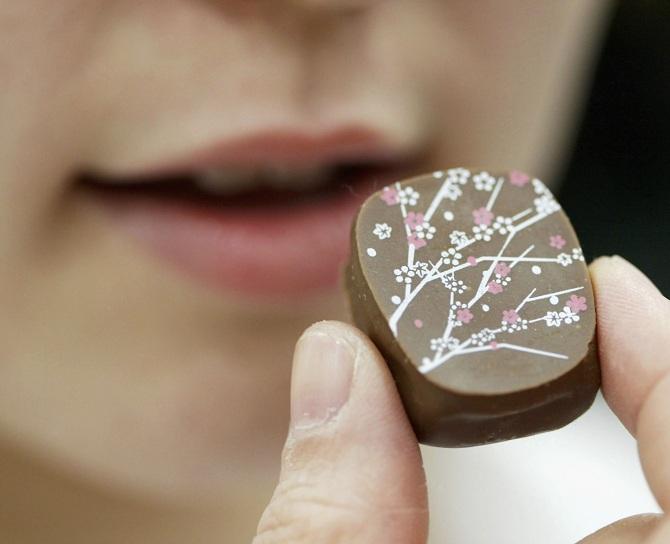 IMAGE: ITC aims to open one chocolate store each in Delhi and Kolkata before October.
Photograph used for representational purpose: Koichi Kamoshida/Getty Images.
ITC has decided to open up India's first branded chocolate chain by setting up luxury boutiques till now confined to the premises of its hotels.
The fast-moving consumer goods major aims to come up with one store each in Delhi and Kolkata by the end of September.
"Spaces have been identified and will be operational sometime next quarter. The identified spaces will be our own in the current phase to ensure quality and a befitting experience for the consumer," said Hemant Malik, chief executive of foods at ITC.
The company's luxury chocolate brand Fabelle sells in boutiques inside seven of its hotels. In September last year, ITC had indicated plans to take this brand outside its hotel premises.
Since then, it has been scouting for space in luxury malls to suit the brand's premium positioning and to give the brand good visibility.
"Plans are on to take the range outside ITC Hotels to premium modern trade outlets and select malls as well as Wills Lifestyle stores for greater accessibility and visibility," Malik said.
Currently, the Fabelle boutiques inside the ITC hotels are built over an area of 700-800 square feet each.
According to the company, limiting Fabelle to select company-owned hotels was effective, helping the brand to establish itself in the luxury market.
Although there are standalone chocolate boutiques like The Chocolate Heaven (Mumbai), Chocolatiers (New Delhi), The Chocolate Room (Bengaluru), Chocolate Atelier (Hyderabad) and several others, so far in this segment, no national branded chain has been established.
On the contrary, global majors like Lindt, Godiva, Guylian and several others have successfully tested this concept worldwide.
Apart from chocolates, the current Fabelle boutiques in ITC hotels also offer desserts and cocoa beverage.
As a brand initiative, the company also came up with the 'As you name it' campaign, where customers pick a cup of chocolate filling, garnish it to their liking and then name it after themselves.
Another brand the company piloted in its hotels, the Sunbean Gourmet Coffee, will come out in select retail stores this July. The Sunbean brand will be competing with Davidoff, Nescafe Gold, Bru Exotica and other premium brands.