The retail sector seeing a sharp rise in FDI flows is one where the Modi government's policy is not clear and has got a little muddled by its political ideology, notes A K Bhattacharya.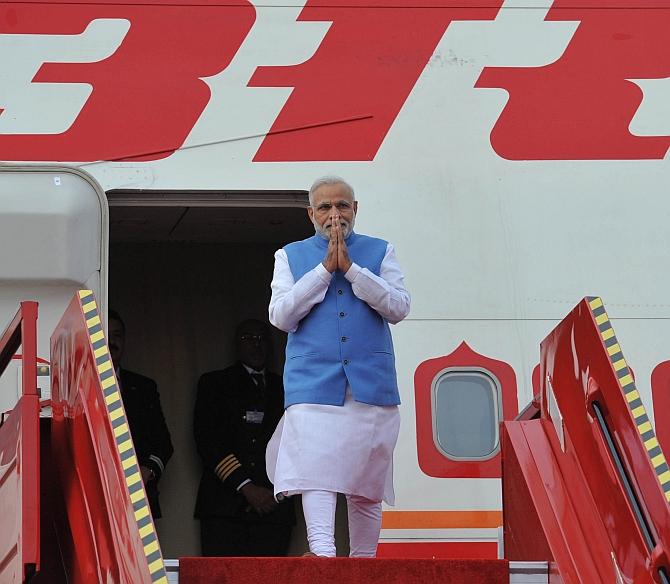 In the last couple of weeks, two senior ministers of the Union government have made fairly important statements on India's performance in attracting more foreign direct investment or FDI in recent months.

One statement mentioned how FDI flows into India increased by 49 per cent in the last one year.

Another minister's statement was about how FDI flows from countries where Prime Minister Narendra Modi had visited seeking investments had actually increased by 40 per cent.
Both the statements deserve closer scrutiny. Total FDI flows into the country in 2014-15, according to the numbers compiled by the department of industrial policy and planning, were estimated at $44.88 billion, a jump of 23 per cent over $36.39 billion in 2013-14.
If you exclude re-invested earnings and other capital from the total FDI flows, you get what is commonly known as FDI equity inflows.
Even by that yardstick, the rise in FDI equity inflows in 2014-15 was slightly higher at 27 per cent - up at $30.93 billion from $24.3 billion in the previous year.
Clearly, the statement on a 49 per cent rise in FDI flows is not really borne out by the actual performance in 2014-15.
Could the statement have been referring to a rise in FDI equity flows in rupee terms?
But in rupee terms also, FDI equity flows increased by 28 per cent from Rs 1,47,518 crore (Rs 1.47 trillion) in 2013-14 to Rs 1,89,107 crore (Rs 1.89 trillion) in 2014-15.

Thus, in the first financial year of the Narendra Modi regime, FDI flows increased in a range of 23 to 28 per cent.
Remember that even the FDI data compiled by the Reserve Bank of India do not show a rise of 49 per cent. The RBI data on foreign investment do not tally with those compiled by the government, which are provisional.

There is also a slight difference in the way the RBI defines FDI. Thus, according to the RBI data, FDI flows were estimated at $34 billion in 2014-15, an increase of just 12 per cent over the previous year's $30.7 billion.

Naturally, it is necessary to look at total FDI coming into India rather than net figures if India's performance as an investment destination is what is being evaluated.
But whatever be the actual growth, the fact is India's foreign investment continues to grow at a reasonable pace and policy makers, who helped this happen, should deserve some credit.
But what causes concern is the discrepancy between the claims made and the actual performance captured by data.
Take any other period for which data are available - the first quarter of the current financial year or the first six months of 2015 - the same trend is visible.
Total FDI flows in the first three months of 2015-16 rose to $12.47 billion, up 12 per cent over $11.11 billion in the same period of 2014-15.
If you look at only the FDI equity flows, the increase is higher at 32 per cent at $9.51 billion compared to $7.2 billion in the same period.
For the first six months of the 2015 calendar year, the growth rate in FDI flows was 12 per cent.
And in respect of FDI equity flows in this period, the growth was a little higher at about 30 per cent. But once again the growth rate is nowhere near the claimed 49 per cent.
The only data point that shows FDI growth closer to the 49 per cent range is the RBI number for the first quarter of 2015-16.
At $11.5 billion, it represents a rise of 43 per cent over $8.03 billion in the first quarter of 2014-15. But then the claim was a 49 per cent increase in the last one year.
How closer to facts is the other statement that FDI flows from countries that the Prime Minister visited went up by 40 per cent?
Mr Modi has so far visited 26 countries. Of these, six figure in the top 10 countries that accounted for about 86 per cent of India's total FDI in the first quarter of 2015-16.
These are Mauritius, Singapore, Japan, the United States, Germany and France. It is true that FDI flows from Mauritius grew by 85 per cent and those from the US and France increased by 126 per cent and 108 per cent, respectively. But growth for Singapore, Japan and Germany were much lower at 12 per cent, 21 per cent and eight per cent, respectively.
The other 20 countries that Mr Modi visited account for a very insignificant share in India's FDI flows.
It is unlikely that these countries would have seen any significant rise in their investments in India in this period.
Even if such increases have taken place, it is a little odd that the success of the Prime Minister's foreign tours would be judged by the rise in FDI flows from the countries that he visits.
There is yet another puzzling issue about these claims about FDI.

The Modi government is firmly of the view that it is not welcoming of FDI in multi-brand retail, even though the policy allows it with specified safeguards.
Similarly, the Modi government is yet to formulate a clear policy on FDI in e-commerce. The irony, however, is that it is the retail sector including e-commerce that has seen a handsome rise in FDI flows in recent months.
For instance, FDI in trading (which would include e-commerce and retail) almost doubled to $2.7 billion in 2014-15.
For policy makers in the Modi government, these FDI trends seem to have presented a peculiar dilemma.
None of them would like to play down the importance of the need for encouraging FDI.
Yet, the sector that is seeing a sharp rise in FDI flows is one where the Modi government's policy is not clear and has got a little muddled by its political ideology.
But for how long can the Modi government ignore the winds of change reflected in the trends in FDI flows?
Sooner the policy on such contentious issues becomes clear, the better it will be for the Indian economy and even for the performance prospects of the Modi government.