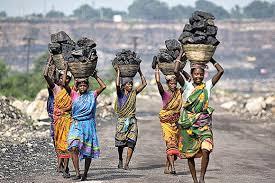 Almost all major metal and mining firms would be affected by the Supreme Court ruling canceling 214 coal blocks, but Naveen Jindal's JSPL and Aditya Birla Group's Hindalco would be among the worst hit, analysts said.
Jindal Steel and Power (JSPL) was allocated six blocks for its sponge iron plants and 1,000 MW power plant. Its entire 12 million tonne coal production come from mines allocated since 1993.
The de-allocation would further delay the process of securing mining rights for its much awaited Utkal B-1 mine, critical for its Angul steel-cum-power project, a brokerage firm said.
A JSPL company official declined to comment immediately. Hindalco was allocated Talabira-I block in Odisha in 1994, Talabira-II in 2005 in a JV with Coal India/Neyveli Lignite and Mahan in Madhya Pradesh in 2006.
Hindalco's Talabira-I mine supplies 2.5 mtpa coal to meet around one-third of its coal requirement. The de-allocation of block would also put a question mark on its greenfield 3.59 lakh tonnes per annum smelter at Mahan which were allocated captive mine in JV with Essar power.
A Hindalco company official declined to comment on the development.
Balco was given a block in 2007 and Sterlite Energy was jointly allocated coal blocks in Rampia and Dip Side Rampia in Orissa in 2008. Hindustan Zinc's Madanpur coal block in Chhattisgarh also satres at being cancelled in 2006.
State-owned aluminium maker Nalco will also be affected as its Utkal-E block in Odisha, allocated in 2004, also faces de-allocation.
Tata Steel's Kotre-Basantpur and Pachmo mines (Jharkhand) were allotted in 2005, but not in operation now and hence, it would not have any immediate impact.
SAIL has been spared of de-allocation of its Tasra coal (Jharia) mine, allotted in 1996 but and Sitanala (Jharia), allocated in 2007, has been de-allocated.
JSW Steel's has a 49 per cent stake in Rohne Coal Company and 69 per cent off-take agreement. The mine was allocated to the company in 2008.