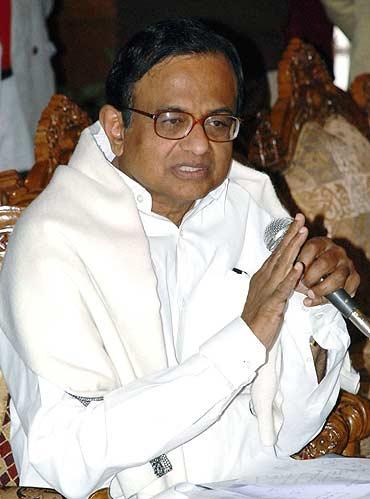 Dismissing the charge of obstructionism in Parliament against Congress, former Finance Minister P Chidambaram on Thursday blamed the government for not scrapping retrospective tax and MAT on FIIs despite its commanding strength in the Lok Sabha.
He accused the BJP of making a u-turn on bills like GST after having stalled them during the UPA regime and rejected their claim that the Modi government has lifted the "gloom" saying it was the BJP that created it. Reviewing the performance of the Modi government, he said farmers and unemployed would give a "very low" rating.
In a strong rebuttal of the charge that the UPA left an economic mess, he said the NDA inherited an economy that was growing a near 7 per cent with declining inflation and fiscal deficit and CAD under control and asserted there wasn't any gloom.
He said BJP has during its first year of office only renamed UPA schemes and has followed on the previous government's successful auction of telecom spectrum.
"They were the ones who created a pall of gloom. Where was the gloom. Inflation started declining in November 2013."
The fiscal deficit was brought under control in 2012-13 partially and significantly in 2013-14.
"When we handed over the baton to them and according to their own figures economy had grown by 6.9 per cent. So where was the gloom. Except the gloom that they created. But they are rhetoric," he told PTI in an interview.
Asked about the oft-repeated charge by Finance Minister Arun Jaitley and others that the UPA left legacy issues like retrospective tax, Chidambaram shot back, "who is preventing him from repealing it.
"He has got 282 members in Parliament. Please ask him to repeal that. I had suggested to him at a public function, I suggested that please repeal that law."
Asked what was preventing the government from doing it, Chidambaram said, "nothing. I dont know. You must ask him. Nothing prevents him. He has no baggage of the earlier government."
To a question whether in hindsight it was a bad decision of the UPA government to bring retrospective tax, he said, "I am collectively responsible. All ministers in that government must accept collective responsibility. It may have been piloted by the Finance Minister of the day but we are collectively responsible."
Therefore, he said, he tried to find a solution to the Vodafone problem but the company backed off.
"We could not succeed. What prevents Mr Jaitley from repealing it. It is a law made by Parliament, can be repealed by Parliament."
On levy of MAT on FIIs, he said there was more than one advanced ruling.
"If the present government thinks that the advance ruling in the particular case was wrong, it can always amend the law. Mr Jaitley forgets that power to amend the law, the power to amend the income tax act, lies with the Parliament, in particular with Lok Sabha where it has a majority of 282."
Asked about the charge of obstructionism against the Congress, he said, "Mr Jaitley was the person who in an address in London and repeated in India, had said that obstructionism is a legitimate parliamentary tactic." "They obstructed the insurance amendment law. We passed it."
They obstructed the GST, we have said we will pass it after standing committee studies it. Which law we have obstructed, he said.
The BJP, Chidambaram said, should be happy that they inherited an economy which was growing at 6.9 per cent, rapidly declining inflation and the fiscal deficit as well as current account deficit was brought under control. Asked how would he rate the first year of the Narendra Modi government, he said he was not in the business of rating.
"But you ask how farmers will rate it. I suspect that they will give a very low rating. If you ask unemployed graduates to rate the government, they will give it a very low rating."
He said laying of roads and building of toilets was not the measure of a government's achievements.
"The measure of a government's achievements is - does it have a set of policies that are different from the previous government and that will accelerate growth in the country and how many of those policies have been implemented in the period we are talking about. That is the measure of a government. "
"They made a number of praiseworthy announcements, a 100 smart cities is a very praiseworthy announcement but beyond that what? I cant think of any new policy which has been broken down into a new programme or programmes which they have implemented," he said.
The former Finance Minister said the NDA government has renamed old schemes - National Skills Development Mission is become Skill India, financial inclusion and zero balance account has become Jan Dhan Yojana, Direct Benefit Transfer on LPG has become PAHAL, Nirmal Bharat Abhiyan has become Swachh Bharat Abhiyan, Aam Admi Beema Yojna and Rashtriya Swasthya Beema Yojna have become Pradhan Mantri some yojna. "What is new about it.... I have no complaints.
All I can say is it reveals a very petty mind. Who prevents them from naming a major 'new' programme after Mr Atal Bihari Vajpayee? We will all be very happy if they do that," he said.