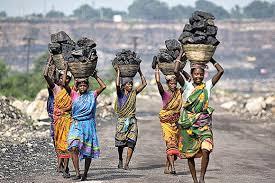 The Centre on Tuesday said it favours cancellation of coal blocks that were declared illegal by the Supreme Court last month.

"In sum and substance, cancellation of coal block allocation is a natural consequence," the government told the apex court, which will today decide if the coal blocks should be de-allocated or not.

The government though reiterated its stand that licences of 46 coal blocks which are in operation or to start operations soon should be retained.

Yesterday in an affidavit to the Supreme Court, the government had said it isn't pressing the apex court "to not cancel selected coal blocks".

Meanwhile, companies, who were allocated coal blocks, also pleaded with the SC not to cancel allocations without hearing them.

The Supreme Court had on August 25 declared that the entire allocation of coal blocks from 1993 till 2010 was illegal, arbitrary, non-transparent and without application of mind and guidelines.

The order affects 194 coal blocks allocated since 1993.

The screening committee which had sat 36 times to take decisions did not make any objective evaluation while distributing national wealth, the judgment delivered by a bench headed by Chief
Justice R M Lodha said.
The allocations both under the screening committee route and the government dispensation route, were arbitrary and illegal, according to the three-judge bench.
The court was hearing PILs moved by Common Cause, advocate Manohar Lal Sharma and a few others challenging the allocations as tainted with corruption and nepotism.
They had sought cancellation of all such allocations.
Subsequently, the government asked the apex court to exempt 46 blocks that were either already active in production or were in an advanced stage or readiness for production.
The remaining blocks allotted could be auctioned, Attorney-General Mukul Rohatgi told a Bench headed by Chief Justice R M Lodha.
Around 40 of the 105 blocks with private companies are producing coal and six are ready for production.
These mines produce 53 million tonnes of coal, about 10 per cent of the total projected output from all blocks, and feed 26,000 Mw of power output and 12 million tonnes of steel production.
An estimated half of the 63 dormant blocks are awaiting mining leases from state governments.
The attorney-general also said allottees without power-purchase agreements could be asked to refund the government profits made from subsidised coal at the rate of Rs 295 for every tonne produced.