Sleuths have been given electronic devices including laptops with secure connections, which keep data encrypted and inaccessible.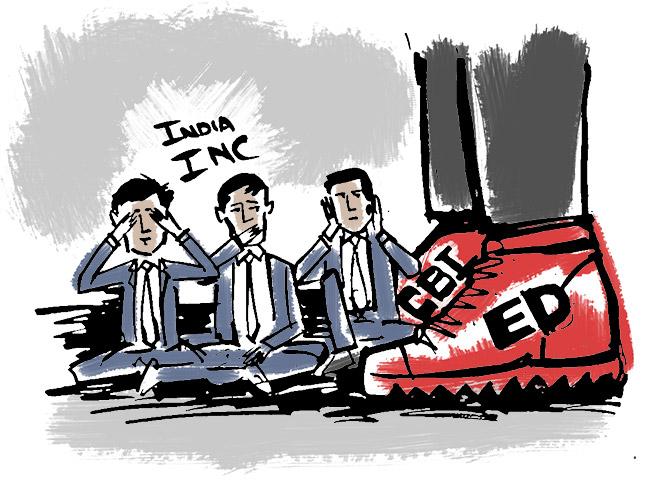 The two central premier investigative agencies — Central Bureau of Investigation and Enforcement Directorate — have asked their officials to focus more on digital evidence, e-forums and social media to crack down on offenders.
These are a crucial part of prosecution amid the second wave of the pandemic.
The Income Tax Department is going full throttle on data analytics to issue notices in time-bound cases.
Further, sleuths have been given electronic devices including laptops with secure connections, which keep data encrypted and inaccessible.
These devices do not recognise or detect any external device like a pen drive or other hard disk and so on.
"The pandemic has changed the investigation technique and increases the prevalence of technology.
"Searches and physical verification of data and questioning have been conducted based on case requirements, but have been minimised to the large extent," said a senior official from one of the agencies.
To secure such digital evidence, officials have also been asked to use the Kawatch App to secure devices from cyber-attack threats.
Federal agencies may, however, face challenges in convincing the judiciary on the veracity of such evidence.
Sometimes digital footprints, footage or voice could be doctored.
However, there is a government-appointed examiner to check the authenticity of digital evidence.
Another issue is that courts take a lot of time to cross-verify the documents physically submitted by the agencies.
"These days virtual hearing is happening in most of the cases.
"However, the court requires physical copies of prosecution documents for verification.
"It is taking a lot of time to get verified due to the pandemic," said a government prosecutor.
Last year during the first wave, the agency had filed a prosecution complaint (charge sheet) in the INX Media matter involving former finance minister P Chidambaram and the ICICI Bank loan case.
The special court took over six months to take cognisance of the case.
The CBI is learnt to have registered about 80 corruption cases this year. In 2020, it had registered 425 cases.
The ED, which deals with anti-money laundering provisions and forex violations, registered about 50 cases since January.
These include crucial cases such as those of former Maharashtra home minister Anil Deshmukh for allegedly obtaining illegal gratification, and Franklin Templeton and its key officials in connection with the fund house winding up six debt schemes.
It has launched prosecution in some known cases including industrial plot allotments involving former Haryana chief minister B S Hooda and the Rose Valley chit fund case.
The agency also seized a number of assets in some high-profile cases including one involving diamond merchant Nirav Modi, the Saradha group chit fund case, PMC Bank fraud case, and the IL&FS laundering case.
Tax-related investigation, on the other hand, relied on "Project Insight" (Project Insight seeks to capture information that taxpayers ought to have declared but have not) to send compliance notices.
By June 30, about 10,000 notices of reopening assessments and also under Black Money matters are to be issued, said a tax official in the know.
With faceless assessment in place, physical verification has been reduced significantly. Now, even tax exemption certificates are being issued digitally, the official added.