The new passenger charter, introduced in March this year, doesn't do much to tackle the high cancellation charges by airlines, points out Tinesh Bhasin.
Illustration: Dominic Xavier/Rediff.com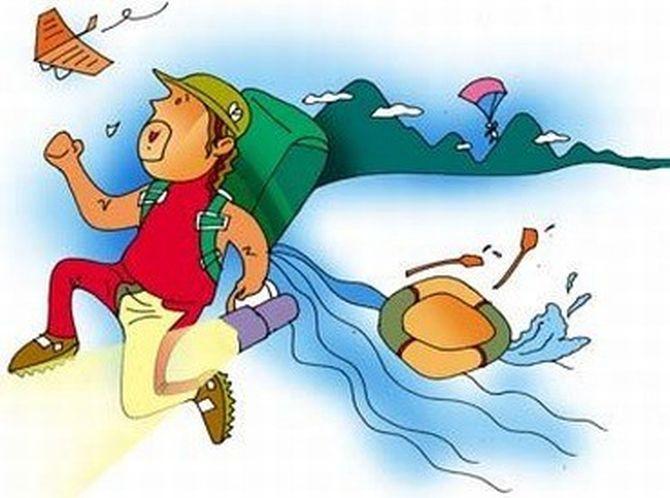 Last-minute cancellations can be costly because of the high penalties that airlines charge.
Take the example of Nishant Hegde and his wife, who had to cancel their four-day holiday to the Maldives last year in November.
The return tickets from Mumbai to Male cost him Rs 35,176 for two.
He got back Rs 12,782, losing 64 per cent of the money spent on tickets.
The new passenger charter, introduced in March this year, didn't do much to tackle the high cancellation charges by airlines.
"Besides being a legacy issue, the charges continue to be high, as the airline would find it difficult to fill the seats last minute due to cancellation. It's also the single biggest charge that an individual incurs when cancelling his vacation," says Sharat Dhall, chief operating officer (B2C), Yatra.com.
Dhall says that these charges have been the biggest pain point for consumers.
Many online travel agents (OTA) are, therefore, offering products that ease such charges.
He points out that cancellation of domestic bookings are around 7-10 per cent, and for international bookings, 5 per cent.
Cancellation charges of airlines vary, depending on whether the flier chose economy, business or premium class.
Typically, if you cancel an economy airline ticket up to two hours before the departure, the charges are Rs 3,000-Rs 3,500, or the base fare plus fuel surcharge, whichever is lower, according to airline websites.
For international flights, the cancellation charges vary.
They depend on where the traveller is headed.
It can be Rs 3,500-Rs 4,500 if flying from India to a few Asian countries, and higher for other continents.
From India to Colombo, for example, it is Rs 3,500.
From India to Singapore or Muscat, it could be Rs 5,000.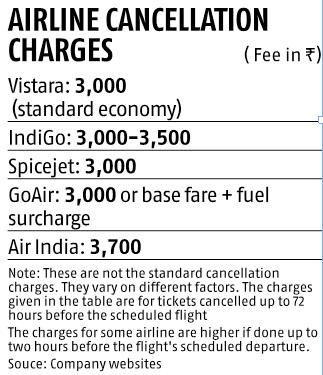 Hotels, typically, don't charge a penalty if the guest cancels 24-48 hours before the day of the stay.
During peak season, however, hotels take either full advance payment or credit card details.
If the customer cancels, they deduct money worth a one-night visit before refunding the advance.
Sometimes, they offer a discount to guests if they are willing to take a non-refundable room, and take the entire money in advance.
To take the sting out of high cancellation charges by airlines, many OTAs are now offering plans that allow fliers to get a full refund in case they cancel their air tickets.
The pricing of insurance is dynamic and available for sectors that have high passenger traffic.
The cost of such insurance plan reduces as the price of the ticket increases.
For a ticket up to Rs 2,000, for example, the minimum charges are around 30 per cent.
For tickets costing between Rs 15,000 and Rs 20,000, the minimum charge is about 11 per cent.
The product is growing in popularity.
Most popular travel websites such as Yatra, MakeMyTrip, Paytm, and Goibibo offer it.
Another option for fliers is to opt for flexi fares.
A few low-budget carriers and most full-service airlines offer this option.
Under the scheme, a passenger is allowed to reschedule tickets without paying any fee or charges.
IndiGo, for example, lets a customer make unlimited changes to the itinerary free of cost.
The individual just has to pay the difference in the fare.
Rescheduling with most airlines that offer this product can be done up to two hours before departure.
If you have a cancellation with a hotel for a non-refundable room, sometimes, it can help to call directly, even though you may have booked the room with an OTA.
If there's a genuine reason for cancellation, the hotel managers can waive off cancellation charges.
You can also get a refund if you are a member or a regular visitor at the hotel chain.