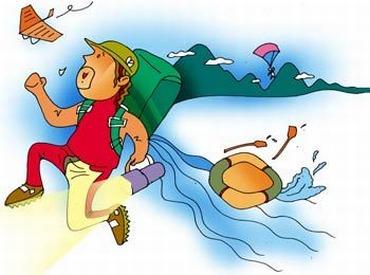 Harjot Singh Narula explains the key points that will help you buy the most appropriate travel insurance plan and leave your worries behind when you travel with family and friends.
Illustration: Dominic Xavier/Rediff.com
1. Choosing a policy
Under travel insurance, there are different categories of travellers such as student, senior citizen, corporate traveller, etc. and they have some unique set of travel insurance needs.
If you are going abroad for studying, you may have to face problems such as emotional upheavals, drug menace, medical treatment, study interruptions, baggage loss and other incidental expenses.
Likewise, senior citizens also go for travelling and may have to face risks such as medical emergency, pre-existing conditions, baggage loss, flight cancellation, etc.
There are insurance policies available that are designed to cater to your specific travel needs. So, don't just buy a travel plan advised by a travel agent; instead pick a policy that suits best to your travel requirements.
You can also choose a policy on the basis of the number of insured — individual, family, and senior citizen, frequency of travel, single trip or multi-trip, purpose and destination of travel.
2. Make sure your travel destination is covered
Insurance companies offer travel policies that have specific geographical coverage or global coverage.
If you are going to travel to a domestic destination, you may opt for a travel policy having coverage in India.
In case, you are going abroad, it's better to choose a travel policy having global coverage.
Policies also come with several sub clauses and exceptions.
Moreover, sub limits on the coverage amount may vary for different destinations. If you are travelling to a destination which is designated as a high risk area, higher restrictions might be imposed on the coverage available or premium may be higher.
There are certain regions such as Afghanistan, Iraq, Syria, Pakistan and certain African and South American countries are considered to be the high risk regions.
If you are planning to travel to Schengen countries such as Belgium, Germany, Greece, France, Netherlands, you need to get a separate travel insurance policy that provides cover for Schengen countries.
It is thus always recommended to check the coverage for the destination/s you are planning to travel.
3. Ascertain duration of coverage
As far as coverage duration is concerned, travel policies are available with single trip and annual multi trip policy.
The frequency of travel determines the duration of the coverage you are looking for.
A single trip policy provides cover for travel-related contingencies for a single trip.
For getting cover for a single trip, you first need to check, how many days you are travelling and you may opt for coverage slightly higher than the travel period, so you remain covered throughout the trip.
The single trip travel policy provides cover only for a single trip and it is best for those who have to travel only once during a year.
Annual multi trip policy offers coverage for up to one year and frequent flyers can opt for this travel policy.
It's always a better option to choose a policy that provides flexibility for extending the policy duration, in case the trip gets extended.
4. Check coverage limit
There are various perils which are covered in the travel policy, but there might be the limit of coverage available against each peril.
There is a limit imposed on the admissible claim amount and it may differ depending on what is being claimed.
For instance, Bajaj Allianz Travel Companion offers coverage for loss of baggage up to US $250, loss of passport up to US $250, medical expenses cover up to US $50,000.
ICICI Lombard International Travel Insurance provides cover for loss of passport up to US $300, medical cover up to US $5,00,000, trip cancellation and interruption up to US $500, bounced booking up to US $2,000.
You are therefore advised to evaluate the coverage and choose a plan which offers the maximum coverage for each peril.
5. Read inclusions and exclusions
When you are seeking to buy a travel insurance policy, it is recommended to check what is covered and what is excluded from the extent of coverage.
Medical cover under travel insurance policies is one of the most important coverages and it includes several heads such as emergency medical evacuation, dental pain relief; some insurers cover repatriation of mortal remains under the medical expenses cover.
So, you need to check whether all sorts of medical emergencies are covered under the plan.
Moreover, most of the travel policies provide cover for travel-related contingencies, including loss/delay of baggage, loss of personal documents, flight delay, cancellation and interruption.
Accidental death or disabilities sustained during travel is an important coverage, however usually not covered under all plans.
Some plans also offer hijack cover and burglary cover which will be of extreme use in case severe uncertainties such as hijacks or burglaries happen during your travel.
You need to go through the inclusions and exclusions of the policy and choose a policy that suits individual conditions the best.
Conclusion
Any insurance costs money, but it is advisable to purchase travel insurance before leaving for the trip.
A travel insurance policy provides cover for medical and non-medical travel related contingencies like loss of baggage, loss of personal belongings/passport, flight delay or cancellation, accidental death or disability, etc.
Prior to buying travel insurance, it is vital to research thoroughly, compare benefits of various travel insurance plans and choose the one that ensures complete cover for your travel.
Harjot Singh Narula is founder and CEO, ComparePolicy.com