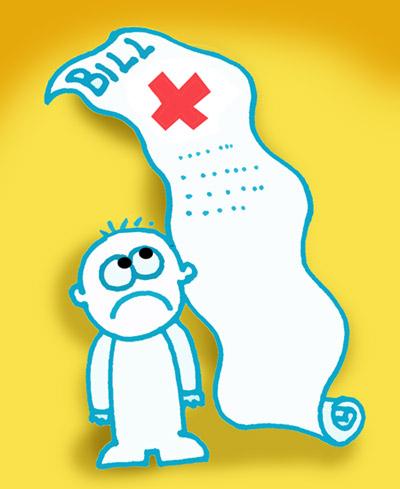 Instead of getting confused by what agents tell you, check waiting period, claim-settlement ratio, price comparison etc to make the right choice, experts tell Sanjay Kumar Singh.
Buying a mediclaim policy is no cakewalk.
It is a complicated product with umpteen features that need to be evaluated.
Most buyers -- even relatively sophisticated ones -- are likely to find themselves at sea trying to figure out which product to opt for.
To make your task easier, we have provided some of the key parameters you should consider while making a purchase.
1. Waiting period
Look at the waiting period for both pre-existing diseases and specified list of conditions.
Some policies have a waiting period of two years while in others it could be as long as four years.
Look for a policy with shorter waiting periods.
2. Claim settlement ratio
It indicates the proportion of total claims made that were paid out by the company.
"A higher claim settlement ratio indicates a positive experience for customers," says Jyoti Punja, chief customer officer, Cigna TTK Health Insurance.
However, there are issues with the way claim settlement data is presented.
"The mix of business (corporate, retail and government), ageing of the business portfolio, etc. influences this parameter," points out Bhabatosh Mishra, chief operating officer, Apollo Munich Health Insurance.
Since the data is not presented in a segregated form, the user doesn't get the whole picture.
"If a company gets a higher percentage of its business from the group side, it is likely to report a higher claim settlement ratio, since there are very few rejections in group policies. More rejections happen in individual policies," says Dhruv Sarin, director, Policybazaar.
Besides looking at claim settlement ratio, he adds one should also look at the split between insurers' retail and group business.
A higher claim settlement ratio combined with a higher proportion of retail business is a favourable mix.
A claim settlement ratio of over 85 per cent is a good number. Experts say that few insurers actually have a very low claim settlement ratio.
By eliminating the players with very low figures, you can narrow down the field of possible candidates.
3. Complaints data
In the public disclosures section of insurers' Web sites, you have data such as claim-related complaints per 10,000 claims, and policy grievances per 10,000 policies.
"Comparing these numbers for the potential companies you are considering will provide a good indication of their servicing and claim settlement capability," says Kapil Mehta, co-founder and managing director, Secure Now Insurance Broker.
4. Room rent
Many policies also come with a cap on room rent, which could be one per cent of the sum assured.
Such policies are best avoided.
If the policy you are considering does have a cap of, say, one per cent, then choose a suitable sum assured so that you can get a single room in the hospitals in your city.
In metros, for instance, the starting rent for a single room could be Rs 6,000, which means that you would need a minimum sum assured of Rs 600,000.
Some policies also carry the restriction that you can get a single private room, but only in the base category.
"What if, when you go to a hospital, a single private room in the base category is not available? In that case, you may have to stay in a higher category room, and may have to co-pay a part of the claim," says Sarin.
When you opt for a higher-grade room, the total cost of treatment rises.
The insurer will only bear the cost of the base package. Anything above that will have to be paid for out of your own pocket.
5. Cashless network
Do check whether the network of cashless hospitals around the place where you live is sufficiently large.
At least all the hospitals that you typically visit should be included.
However, bear in mind also that a new company may be still in the process of building its network.
Do not reject it, if its policy is good, only because the number of hospitals in its network is currently low.
Aggregator sites like Policybazaar give you the number of hospitals in each insurer's cashless network once you enter your pin code.
6. Nature and size of the business
According to Mehta, you should give preference to standalone health insurers.
"They are entirely focused on this business and have well-designed products," he says.
His second choice, he says, would be one of the larger private-sector general insurers.
"The larger companies tend to have more streamlined processes," he adds.
7. Incurred claim ratio
This is the ratio of total claims paid out by the company divided by the premium collected by it in a year.
This data is available in the Handbook of Indian Insurance Statistics (the 2016-2017 edition came out recently).
If an insurer's incurred claim ratio is above, say, 90 per cent for retail, there is a high possibility that it may raise prices in the near future.
Avoid such players.
8. Premium rate
Once you have narrowed down the field through a process of elimination, compare the premium rates of those that are left for your age and sum assured, and go by what you can afford.
While factoring in all these numbers can help you make a more informed choice, experts say that many crucial data are not available in the public domain.
Besides the issues with the claim settlement ratio that we mentioned above, another crucial piece of data that is not available is the proportion of cashless versus reimbursement settlements.
Ideally, you would want to pick an insurer whose proportion of cashless settlements is higher.
In the absence of such data, do the best with what is available in the public domain.
Illustration: Dominic Xavier/Rediff.com