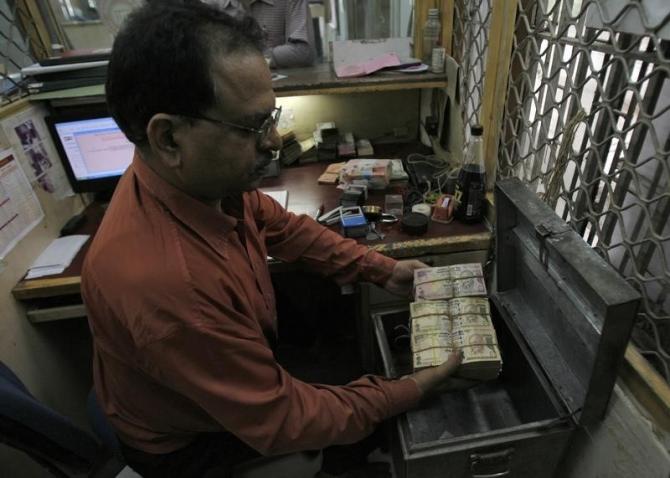 Finance Minister Arun Jaitley on Monday favoured consolidation of public sectors banks, which will see capital infusion of Rs 25,000 crore (Rs 250 billion) next fiscal, once their balance sheets are strengthened.
"The first and immediate agenda is to strengthen the banks. We will strengthen them by recapitalising the banks. . .," he said at post Budget interaction with media in New Delhi.
"And thereafter we are willing to look at consolidation among subsidiaries, consolidation of subsidiaries with the principal bank, consolidation of a weak bank to a strong bank subject to overall 52 per cent discipline that we have laid down for ourselves," he said.
Over the long run, he said, the government will bring down stake in public sector banks to 52 per cent.
However, with regard to IDBI Bank the government intends to lower its stake to even below 50 per cent.
Government currently holds 80.16 per cent in IDBI Bank.
"The reference to bring down to below 50 per cent was with regard to IDBI Bank," he said.
The Bank Board Bureau created on Sunday will be operationalised during 2016-17 and a roadmap for consolidation of Public Sector Banks will be spelt out.
On recapitalisation of state-owned banks, the Finance Minister said, the government is open to providing more capital than that announced in the Budget.
The proposal is to infuse Rs 25,000 crore (Rs 250 billion) in public sector banks in the next fiscal.
"What I have announced today is not the last word or last amount as far as recapitalisation is concerned.
"Therefore, something more will happen," he said.
"The banks are putting in special efforts to effect recoveries, with a focus on reviving stalled projects.
"To support the Banks in these efforts as well as to support credit growth, I have proposed an allocation of Rs 25,000 crore in BE 2016-17 towards recapitalisation of PSBs," he said in the Budget speech earlier in the day.
If additional capital is required by these Banks, he said, the government will find the resources for doing so.
"We stand solidly behind these banks," he added.
Image: A PSU bank worker. Photograph: Reuters