The Survey projected growth rate of 7-7.75 per cent for 2016-17 with downside risks due to weak global economic scenario.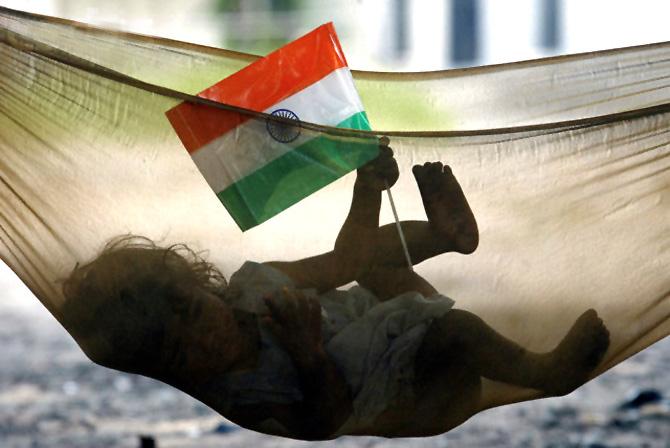 Pegging growth at 7-7.75 per cent for next fiscal, the pre-budget Economic Survey on Friday asked the government to press ahead with reforms, cut subsidies and introduce GST, while advocating a review of mid-term fiscal targets to create space for additional expenditure.
It called India "a haven of stability" in a gloomy global landscape but warned of possible currency turmoil after China's recent devaluation.
Tabled in Parliament three days before Finance Minister Arun Jaitley presents his third Budget on Monday, the Survey projected growth rate of 7-7.75 per cent for 2016-17 with downside risks due to weak global economic scenario.
It put 2015-16 GDP growth at 7.6 per cent, below its earlier expectations of 8.1-8.5 per cent expansion, adding that India will take a "couple of years" to achieve the potential 8-10 per cent rate.
"With focus on reforms in key sectors coupled with stable macroeconomic conditions, the growth prospect for the economy in the next year appears reasonable," the Survey said, adding that the headwinds may come from sluggish global demand.
As the government faces Rs 1.02 lakh crore bill in pay hike for central staffers and another Rs 1.8 lakh crore towards bank capitalisation, it favoured a review of fiscal deficit targets.
Saying the budget deficit target of 3.9 per cent of GDP in current year will be adhered to, the next fiscal will be "challenging" given the additional resources needed.
It said that "credibility and optimality" argued in favour of sticking to deficit target of 3.5 per cent of GDP for 2016-17, indicating some room for an upward revision.
"There are very good arguments for a strategy of aggressive fiscal consolidation...and equally good arguments for a strategy of moderate consolidation that can place the debt on a sustainable path while avoiding imparting a major negative demand shock to a still-fragile recovery," it said.
"The Union Budget will carefully assess these questions."
One option may be to narrow the deficit by 0.2 or 0.3 percentage points of GDP each year over the next five years, which would take the gap to 3 per cent of GDP by March 2021. The target is to cut fiscal deficit to 3 per cent by 2017-18.
It estimated that over Rs 1 lakh crore worth subsidies go to the well-off and advocated that they should be cut for better fiscal welfare management. It also called for a phasing out of the tax exemption Raj that benefited the richer private sector and a "reasonable" taxation for better-off individuals.
The Survey also asked the government not to raise tax exemption limit for individuals, while suggesting bringing in Property Tax and widen the tax base from 5.5 per cent of earning individuals to over 20 per cent.
The Survey said the increase in wages and benefits recommended by the 7th Pay Commission is not likely to destabilise prices and will have little impact on inflation.
It advised easier monetary policy saying oil prices would keep costs low, even though the magnitude may decline in the coming year. It also called for expeditious implementation of the Goods and Services Tax (GST), describing it as an unprecedented reforms measure.
Inflation is projected to decline to 4.5-5 per cent in 2016-17, within the Reserve Bank of India's target, while the current account deficit would remain low at 1-1.5 per cent of the GDP.
It also said that low inflation has taken hold and confidence in price stability has improved. Prospect of lower oil prices - around $35 per barrel as compared - over medium term is likely to dampen inflationary expectations.
The Survey said the rupee's value must be fair, avoiding strengthening. Fair value, it said, can be achieved through monetary relaxation. Stating that gradual depreciation in rupee can be allowed if capital inflows are weak, it said India needs to prepare itself for a major currency readjustment in Asia in wake of a similar adjustment in China.
The Survey also called for increasing tax-GDP ratio, and spending more on health and education. It advocated scrapping tax benefits for savings like PPF and taxing investments at time of withdrawal saying the incentives are availed mostly by the well-offs.
Calling for sweeping reforms in the fertiliser sector, it pitched for deregulation of the urea market through payment of fixed subsidy directly to farmers and freeing imports.
The Survey also pitched for allowing industries to use excess power generation capacity via open access in a push for 'Make in India' while allowing power discoms to explore the possibility of progressivity in tariff setting so that charges for the poor come down.
India, it said, needs to create a large number of formal sector jobs and deal with regulatory issues that force firms to opt for contract workers due to slow labour reforms. It projected capital requirement for banks at around Rs 1.8 lakh crore by 2018-19.
The government, it said, should sell off certain non financial companies to infuse capital in state-run banks. Exports, which are in the negative zone since December 2014, are expected to start picking up from the next fiscal.
Seeking to paint an optimistic picture of the economy amid a gloomy global landscape, the Survey said that "India stands as a haven of stability and an outpost of opportunity" with regard to macro-economic factors and low inflation.
"India's economic growth is amongst the highest in the world, helped by a reorientation of government spending toward needed public infrastructure," it said, adding that the task ahead would be to sustain growth in an even more difficult global environment.
The three-point agenda suggested by the Survey to push GDP growth rate to 8-10 per cent include moving away from anti-market policies, major investment in health and education and more focus on agriculture sector.
The government, it added, has been able to pursue meaningful reforms and deal with "palpable and pervasive" corruption.
FDI has been liberalised across the board and vigorous efforts have been undertaken to ease the cost of doing business, it said, adding that stability and predictability has been restored in tax decisions reflected in the settlement of the Minimum Alternate Tax (MAT) imposed on foreign companies.
The Survey, however, expressed concern over delay in implementation of GST and shortfall in disinvestment target.
It asked the government to expeditiously rationalise subsidy which at present was "work-in-progress."
The Survey said that corporate and bank balance sheets remain stressed affecting the prospects for reviving private investments.
Elaborating on the global situation, it said that the upcoming budget and economic policy would have to contend with an unusually challenging and weak external environment.