Handicraft exporters have urged the government to continue 2 per cent interest subsidy scheme beyond March 31, 2012, in the backdrop of demand slowdown in global markets like Europe and the US.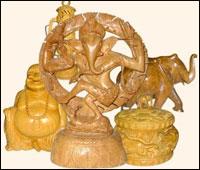 The Export Promotion Council for Handicrafts (EPCH) has sought continuation of the interest subvention scheme in its pre-budget memorandum submitted to the finance ministry.
"We have urged the Finance Ministry to continue the scheme so that credit is available to exporters at lower rates aimed at making handicrafts items more competitive," EPCH executive director Rakesh Kumar said.
The scheme, under which interest subsidy is given to commercial banks for their concessional lending to exporters, covers sectors like handicrafts, handlooms, carpets and small and medium enterprises (SMEs).
Besides, the council has sought reduction in customs duty on import of seashells.
"We have demanded that import tax on seashells should be reduced to zero per cent from existing 30 per cent as the handicrafts sector is highly dependable on seashells," Kumar said.
The handicrafts sector employs one million people. Moradabad, Jaipur, Saharanpur and Jodhpur are the major handicraft hubs in the country catering to global markets.
During April-January this fiscal, handicrafts exports went up by about 19 per cent to $1.8 billion from $1.5 billion in the same period of last fiscal.
The US and European Union together account for 70 per cent of the country's handcraft exports.