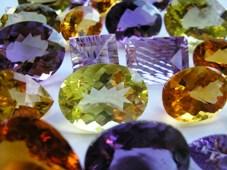 India is home to the world largest diamond processing center and plays a dominant role in the processing of gem and jewellery in the world.

It is also largest consumer of gold and silver jewellery and third largest consumer of polished diamonds in the world.

Favourable demographics and skilled work force are driving India to be one of the fastest growing markets for the gem and jewellery business.

One of the pioneering countries to hand make fine jewellery from metals, India has over 1 lakh jewellery manufacturing units, 6000 diamond processing units and 4.5 lakh gold smiths.

Indian gems and jewellery market comprises diamonds, colored stones, jewellery (gold and silver), pearls, among others. Gold and diamond jewellery account for around 80% of diamonds processing in terms of carats and 55% in terms of volume.

The share of un organized segment, comprising family jewellers, declined from 96% in 2009-10 to around 93-95% in 2010-11.

The gems and jewellery industry is estimated to be around $100 billion in 2010-11, of which exports accounted for around $43 billion and the domestic market accounted for around US$57 billion in 2010-11.

The market for branded jewellery retail in India at $2.85 billion is just 5% of the $ 57 billion domestic jewellery retail market.

The gems and jewellery industry is a major exchange exchequer as major portion (around 80%) of its turnover was contributed by exports.

Diamonds contribute to nearly 80% of the entire turnover and of this industry and hence many times the terms 'gems and jewellery industry' and 'diamond industry' are used as synonyms. Industry exports grew 47% to reach $43.13 billion in FY11 against $ 29.36 billion in FY10.

According to the Gem & Jewellery Export Promotion Council latest statistics, export of cut & polished diamonds declined 13% to 443.15 lakh carats during 11 months period April-January 12.

In value terms exports of cut and polished diamonds declined 7% to US$ 19.70 billion.

The export of gold jewellery grew 31% to US$ 7.57 billion in the period under review. On the other hand, exports of rough Diamonds grew 8% to 278.22 lakh carets.

The overall exports of Gems & Jewellery grew 10% US$ 35.50 billion at end of January 12.

The industry has witnessed slowdown in the volumes terms but has reported modest growth in the value terms, thanks to the spike in prices of gold and diamonds.

In month of January 2012, government has changed the duty structure on precious metals from specific amount to value linked duty structure.

Both Customs and Excise duty is levied on value of precious metals instead of fixed amount.

This will result in increasing duty when prices on precious metals rise.  It has levied 2% customs duty on value of gold imports against flat Rs 300 per 10 gm levied earlier.

In case of silver, 6% customs duty was levied against Rs 1500 per Kg levied earlier.

A part from Gold and Silver, diamonds will also attract 2% value based import duty and platinum was also brought under the duty structure. On the other hand, excise duty on gold was fixed at 1.5% of value against earlier Rs 200 per 10 grams.

Similarly, Silver will attract excise duty of 4% compared to fixed duty of Rs 1000 per Kg earlier.

The increase in duty is expected to fetch revenues worth Rs 600 crore for the government for the remaining fiscal.

While the duty may not hurt exporters as duty draw back scheme will offset the increase in the customs duty, the domestic consumers will have to pay higher prices.

Spike in Gold prices have dented demand across the jewelry industry.

However, the industry has been able to pass on the increase in the duties as the consumer sentiment has already absorbed the peak prices of gold and silver.

The Industry represented by its associations namely Gem and Jewellery Export Promotion Council (GJEPC) and All India Gems and Jewellery Trade Federation (GJF) has solicited for relief measures from the government to improve its competitiveness.

Recommendation of Industry:


Cut import duty on worked coral from existing 24.42% to 0%, so as to boost the increasing export of worked coral studded precious metal jewellery from India.

Cut import duty on Rhodium from 2% to 0%.

Withdraw 1% excise duty on branded jewellery.

Introduce 1% of Diamond Development Cess (DDC) or Countervailing Duty (CVC) on import of cut and polished diamonds so as to remove unfair practices of round tripping of diamonds.

Decrease import duty on machineries for designing and manufacturing jewellery from 10% to 5%.

Introduce Presumptive taxation for the gem and jewellery industry.

Give income tax exemption to all Export promotion councils.

Impose Commodity Transaction Tax (CTT) of 0.2% on every transaction of exchange traded gold fund (ETF) as most of the ballooning imports of yellow metal are going for the purpose.

Also restore specified duty at rate of Rs 40 per gram in gold to support the domestic industry.

Increase the jewellery purchase limit without quoting PAN (Permanent Account Number) to Rs 25 lakh from the existing Rs 5 lakh.

Reduce baggage carriage of gold by NRI's from existing 10 kg to 1 kg.

Amendment in the Income Tax Act 1961 – Trading in derivatives in specified stock exchange would not be treated as "speculative transactions" for the purpose of Income tax act.
Besides above, amendment should be introduced by the way of a provision (e) to section 43(5) with effect from 1 April 2006. Provision (e) says, any transaction in respect of derivatives as defined in subsection (a) of section 45U of RBI Act 1934 carried out with any bank which is registered as on Authorized dealer – category I with RBI.
Companies to watch:

Gitanjali Gems, Rajesh Exports, M D Overseas, Titan Industries, Shree Ganesh Jewellery House, Su Raj Diamonds, C Mahendra Exports etc.
Outlook:

With more than 90% of Gem and Jewellery industry under unorganized market, 1% excise duty on the branded jewellery is giving cutting edge competition for the organized retail jewelers.
Any cut in the excise duty on branded jewellery or any benefits to strengthen the branded jewellery will help to scale up the exposure of branded jewellery players in the market.
Further, replacement of existing tax with presumptive tax regime will help the accurate assessments of profits.
Union Budget 2012-13: Complete coverage