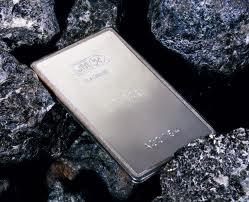 Platinum has always been popular among the high-end jewellery buyers.

But with gold price sky rocketing in the past two years, retail buyers have also started showing interest.

Another reason is that the rare metal, which used to be expensive than gold, is now cheaper than the yellow metal.

In the domestic market, when gold costs Rs 27,850 per 10 gram, platinum weighs in at Rs 2,649 per gram (Rs 26,490 per 10 grams).

But, in the international market, it is priced at close to gold. Till 2009, platinum was costlier than gold. In 2011, both the metals stood at the same price ($1,882).

Many industry experts believe there is less headroom for gold prices. On the other hand, platinum prices have largely stayed unchanged in India.

It stood at Rs 2,660 per gram around February 15, 2011, and on Tuesday, it is at Rs 2,650.

In the same period, gold has moved up 35 per cent.




At present, the platinum is consumed largely by industries.

India's consumption of gold is higher than the annual platinum production.

However, a large part of the business comes from new customers and newer markets have grown 100 per cent, while existing markets have grown 40-70 per cent year-to-date, says the Platinum Guild International.

And, individuals are keen on investing in platinum.

As of now, you can own this metal only as a piece of jewellery.

The only solace is the National Spot Exchange's e-series in platinum, which will be launched this month end.

"One can buy one gram platinum (and its multiples) by opening a demat account with the exchange's depositories.

"You can also take physical delivery of the metal," says Anjani Sinha, MD of National Spot Exchange. You could take the delivery in the form of coins, available in eight and 10 grams, at a cost of Rs 200, plus one per cent value added tax).

Says Ashok Minawala, former chairman, Gems & Jewellery Trade Federation, "Platinum is not an investment avenue because its performance is not like gold. You can invest in an asset class if it gives returns."

Platinum has returned 57 per cent against gold's 90 per cent. The metal gained popularity with high-end buyers, due to its rarity (30 times rarer than gold), high value and classy look with diamonds, he added.

The precious metal is not available in every small town, its larger market are the metros.

Hence, the platinum market is not very mature. Investors can track gold prices but not platinum prices.

Prices vary for the same quantity / quality of platinum. Pricing policy for platinum also depends on the jeweller's tie-up with vendors, cost of sourcing metal, demand-supply and retailer margins, which differ with some selling at the maximum retail price and some by a price break-up.

An unorganised market for physical platinum means tight resale policy.

You can sell platinum jewellery only in the store you purchased it from.

And, you are most likely to recover just 90 per cent of the value of the metal.

Experts say there is easily a difference of Rs 200-300 between the buying and selling price.

When you go to sell the jewellery, the jeweller deducts making charges and wastage charges.

According to Vaishali Bannerjee, manager (India) at Platinum Guild International, "Buyback depends on the jeweller's policy.

Some may categorise it as per the metal to be sold while others may have a standard buyback policy."

The good part is that despite being an upcoming segment, hallmarking is already in place for this metal. The Platinum Guild has authorised jewellers who sell hallmarked platinum.

You can identify it with the 'PT950' mark. Then, there is a third-party authentication by Underwriters Laboratories, which gives purity card, also called UL card.