The power sector has achieved 76 per cent of the generation target for 2011-12 in the first nine months of the fiscal, the Economic Survey 2011-12 said on Thursday.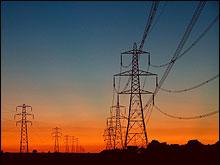 Electricity generation during 2011-12 was targetted to increase by 5.4 per cent to 855 billion units, and in the first nine months 76 per cent of the target has been achieved, the Survey said.
During the April-December (2011-12) period, 653.446 billion units (BUs) of electricity were generated against 598.244 BUs in the same period last financial year.
Growth in power generation during April-December 2011 was 9.2 per cent compared to 4.6 per cent expansion during the corresponding period last fiscal.
The growth in nuclear, hydro and thermal power generation was at 33.2 per cent, 19.2 per cent and 6.7 per cent respectively.
The overall plant load factor (PLF) or the efficiency of thermal power stations stood at 72.1 per cent, slightly lower than the PLF of 72.9 per cent in the April-December 2010.
A capacity addition of 46,669.7 MW has so far been achieved untill January 2012.
At the start of the XIth Five Year Plan (2007-12), a capacity addition of 78,700 MW was envisaged but was scaled down to 62,374 MW in the mid-term appraisal, with the thermal, hydro and nuclear segments contributing 50,757 MW, 8,237 MW and 3,380 MW respectively.
The power ministry launched an initiative for development of coal-based super-critical (energy efficient and environment friendly) ultra mega power projects (UMPPs) of 4,000 MW capacity in 2007.
Four UMPPs at Sasan (Madhya Pradesh), Mundra (Gujarat), Krishnapatnam (Andhra Prades) and Tilaiya (Jharkhand) have already been transferred to the identified developers and are at different stages of implementation.
The first 800 MW unit of the Mundra UMPP has been commissioned and the remaining units would come up during the 12th plan period (2012-17). The other UMPPs are also expected to be commissioned the same period.