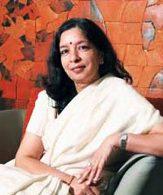 Multiple concerns have, of late, raised questions about India's continuing growth story. Persisting high inflation threatened a hard landing for India's economy, says Shikha Sharma, MD & CEO, Axis Bank.
Potentially volatile portfolio capital flows were perceived to be financing a high current account deficit. An emerging infrastructure financing gap threatened the pace of investment.
The defining theme of the Budget is the retention of a growth focus, while addressing the above concerns -through fiscal consolidation, easing supply side constraints on agricultural growth and encouraging investments.
The
most effective signal of the government's determination in containing inflation and increasing investments is a consolidation of its finances.
Infrastructure remains a key driver, not just in sustaining investment, but also mitigating the bottlenecks that constrain India's full potential.

In particular, to boost agricultural production, expanding the scope of infrastructure projects to cold storage facilities will partially mitigate short-term farm supply bottlenecks, and that to fertiliser projects will increase farm productivity over the longer term.