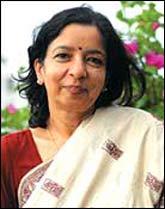 Former ICICI Bank veteran Shikha Sharma will take home a hefty pay packet as Axis Bank managing director and CEO that will be in excess of Rs 2 crore (Rs 20 million) a year, if one counts allowances and other perquisites.
Sharma will also be provided loan facilities totalling Rs 51 lakh (Rs 5.1 million) by the bank, besides fully furnished accommodation, office car and telephone among other benefits.
She assumed office at Axis Bank in June this year, but her remuneration is yet to be ratified by the country's third largest private sector bank's shareholders, who have now been asked to either approve or reject the proposal by September 8.
According to the bank's proposal, Sharma will get over Rs 1.75 crore (Rs 17.5 million) as salary and allowances towards entertainment, house rent and upkeep of her residence.
Apart from this, Sharma will also get a number of perquisites adding up to more than Rs 90 lakh (Rs 9 million), taking the total package to about Rs 2.65 crore (Rs 26.5 million), exclusive of benefits like accommodation, car and telephone and reimbursements of medical, entertainment and certain official expenses.
While her remuneration could not be ascertained at her previous organisation ICICI Bank, where she was managing director and CEO of ICICI Prudential Life Insurance, Sharma's proposed package at Axis Bank is almost equivalent to the gross remuneration paid to ICICI Bank's CEO and managing director.
ICICI Bank's then CEO and MD K V Kamath was paid a total remuneration of about Rs 2.65 crore (Rs 26.5 million) in the year ended March 31, 2009, while his successor Chanda Kochhar was paid a gross salary of about Rs 1.65 crore (Rs 16.5 million) in the same year.
ICICI Bank has fixed Kochhar's monthly salary as the CEO and MD in the range of Rs 7-13.5 lakh (Rs 700,000-1.35 million), which is the same as that for Kamath in this role earlier.
Before assuming office of CEO and MD in May this year, Kochhar was Joint MD and CFO at ICICI Bank and commanded a salary of Rs 4-10.5 lakh (Rs 400,000-1.05 million). Sharma will get a monthly salary of over Rs 10 lakh (Rs 1 million), excluding allowances and perquisites.
Sharma, who was reportedly in the race for the top job at ICICI Bank, had quit the group days before Kochhar succeeded Kamath as ICICI Bank CEO and MD on May 1.
Axis Bank named Sharma its CEO and MD on April 20, but she assumed office on June 1 after the bank's shareholders approved the appointment for a period of three years.
Now, the bank needs the shareholders' approval for the remuneration to be paid to Sharma, and also for its Deputy MD (Designate) M M Agrawal.
In accordance with the proposed remuneration, Sharma will get a salary of Rs 1.25 crore (Rs 12.5 million), HRA of Rs 48 lakh (Rs 4.8 million -- payable if she lives in her own accommodation, Rs 2.4 lakh (Rs 240,000) for upkeep of accommodation (if it is provided by the bank) and her official entertainment would also be taken care of by the bank.
Image: Axis Bank CEO Shikha Sharma