The Centre expects its revenue loss on account of tax sops to export oriented units under Software Technology Parks of India (STPI) scheme to go up by over 21 per cent to Rs 11,501 crore (Rs 115.01 billion) this fiscal, over the previous financial year.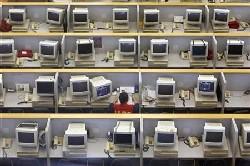 As per the Budget documents presented in Parliament on Monday, the revenue forgone on deduction of export profits of STPI units was Rs 9,497 crore (Rs 94.97 billion) in 2009-10.

The government's projection on revenue foregone on tax incentives to SEZ (Special Economic Zone) units has been projected at Rs 5,126 crore (Rs 51.26 billion), up from Rs 4,233 crore (Rs 42.33 billion) in the previous fiscal.

"Across various sectors, deductions for STPs, Export-Oriented Undertakings (EOUs), Power, and Telecom sectors account for 13 per cent, 4 per cent, 10 per cent and 5 per cent of the total tax forgone respectively," the Receipts Budget 2011-12 said.

The government's projections are that its total revenue forgone on different tax incentives would be Rs 88,263 crore (Rs 882.63 billion) in the current fiscal, about 21 per cent up from Rs 72,881 crore (Rs 728.81 billion) tax expenditure on corporate tax payers in 2009-10.

The projected revenue foregone for 2009-10 was earlier estimated at Rs 79,554 crore (Rs 795.54 billion), but the actual loss was 8.38 per cent lower, the Budget document added.

There are 51 STPIs, located mostly in Southern part of the country, which get tax concessions on their export earnings. Similarly, units in SEZs get income tax benefits.

While the income tax incentive under the STPI scheme ends in March this year, the exemption would continue for SEZ units which would become operational by March 2014.