Small and medium information technology companies operating out of the Software Technology Park of India (STPI) and who have not relocated their business operations to the special economic zones (SEZs) could stand to lose a substantial part of their tax holidays after the forthcoming Budget.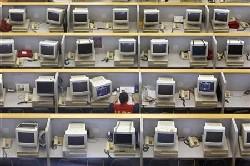 The government is expected to end the benefits under Section 10A and 10B of the Income Tax Act.

Officials said the benefit which information technology (IT) companies located in the STPI units used to get for a period of 10 years under section 10A and 10B could be ended and would be applicable only to those who have relocated their business in SEZs.

Big IT companies like Infosys, TCS and Wipro won't have much of an impact as they have already relocated more than 90 per cent of their operations out of STPIs to SEZs.

But the move could have an impact on the small and mid-sized IT and BPO (business process outsourcing) companies since they may not be willing to relocate to SEZs because the cost of relocation for them to SEZs is quite high.

"India's information technology industry has become big and mature, and there is no use of extending the holidays to larger companies. However, for small IT and ITeS companies up to a turnover of Rs 500 crore (Rs 5 billion), the government should consider extending the tax benefits, so that these companies can re-invest and grow faster," Infosys Technologies Chief Financial Officer V Balakrishnan said.

Under the STPI scheme, 100 per cent tax deduction on profits under Section 10A and Section 10B of the Income Tax Act was given till March 31, 2009 and extended by a year twice till this financial year.

In the absence of tax holidays, those units which do not relocate to SEZs may be required to pay tax at the rate of 30 per cent plus cess and surcharges.

About 4,200 small and medium enterprises registered with STPI are contributing 41 per cent of its total exports.