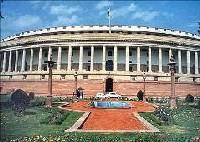 To the disappointment of the Forward Markets Commission, the commodity markets regulator, the standing committee of Parliament examining the Bill seeking to amend the Forward Contracts (Regulation) Act, 1952, has invited suggestions from the public and stakeholders, including consumer bodies.

The FMC had hoped for early passage. Its chairman, B C Khatua, had recently said he hoped it would pass by the second half of the coming Budget session.

The rationale was that the same standing committee had earlier cleared a similar set of amendments.

However, the government decided to table another version late last year and the process begins anew.

The Bill seeks to give the FMC powers akin to that of peer regulators such as the Securities and Exchange Board of India and to allow introduction of newer instruments like options and index-based trading.

The futures market in commodities is growing at 40 per cent annually in recent years. However, several restrictions on trading make it difficult for genuine hedgers to ply in the market.

Lamon Rutten, MD & CEO of the Multi Commodity Exchange of India, said, "Once promulgated, the Bill will empower FMC to devise effective ways to eliminate anomalies, deepen the Indian commodity derivatives market through wider participation, bring in professional practices and approach to the market, provide the required impetus and thereby strengthen the market further."