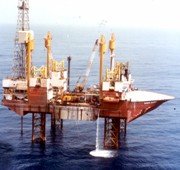 The Rs 13,000-crore (Rs 130-billion) public offering of state-run Oil and Natural Gas Corporation is likely to hit the market on March 15, a government official said on Monday.
"A tentative schedule has been drawn for the follow-on public offer, as per which the first road show will be held in Chennai on February 2 and the public offer will hit the market on March 15," the official said after the kick off meeting of the FPO on Monday.
ONGC will file the red herring prospectus for the FPO by February 25, by which time it hopes to have five more independent directors on the company's board to meet the Securities and Exchange Board of India's listing requirement.
The government plans to raise Rs 13,000 crore (Rs 130 billion) through sale of five per cent stake in ONGC.
Last week, the government had appointed Bank of America Corp, Nomura Holdings, HSBC Holdings Plc, JM Financial Services, Citigroup Inc and Morgan Stanley to handle the FPO.
Post offer, the government shareholding in ONGC would come down to 69.14 per cent from the current 74.14 per cent.
ONGC has six functional directors, besides chairman and managing director.
It also has two government-appointed nominee directors
taking the total strength to nine. Besides, the company at present has four independent directors and needs five more to meet the Sebi's listing requirements.
As a precursor to the share sale, ONGC will split equity shares with a face value of Rs 10 each into two shares of Rs 5 each.
It will also issue a free share to every shareholder.
After the share split and bonus issue, the market value of ONGC's shares will dip to around Rs 275 (a share), as against today's closing price of Rs 1,138.70 on the Bombay Stock Exchange.
ONGC has already appointed two international auditors -- DeGolyer and MacNaughton and Gaffney, Cline and Associates -- to certify its' and its' subsidiary ONGC Videsh Ltd's oil and gas reserves, a prerequisite for any exploration firm going for a public offering.
The company, which usually gets its reserves audited every five years, is getting certification done just after a three-year gap this time because of the planned FPO.