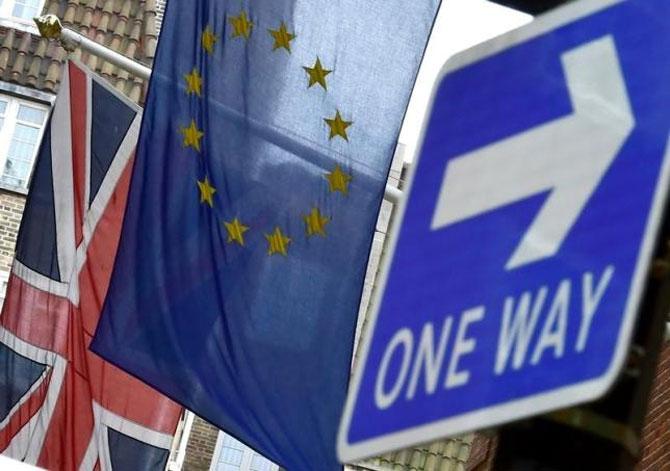 'We believe we should see an upward trajectory for the next three quarters'.
'There is a positive environment as of today.'
Tech Mahindra posted in-line results for the June quarter though margins disappointed a bit.
C P Gurnani, managing director and & chief executive officer, remains positive on these.
However, he believes Brexit will have some impact on the company in the short term.
In conversation with Sheetal Agarwal and Moulishree Srivastava, he talks about the results and the road ahead.
Edited excerpts:
Tech Mahindra's margins came below Street expectations. Will you be able to recover some lost ground going forward?
We could have done better on the margins side.
However, we believe we should see an upward trajectory for the next three quarters from here on and our endeavor, would be to try and keep the same margins in FY17, despite external headwinds.
You have indicated that there will be near term impact from Brexit on the company. Are you witnessing heightened demand pressures in certain sectors?
There is no exact analysis.
There are two impacts of Brexit.
The first is when there is a currency depreciation of 9-10 per cent, clearly there will be an impact.
And, for a company like ours, which derives 10-11 per cent in pounds, it makes a difference.
The second part is, we serve our customers' customers.
So, there will be a minor impact because of relatively lower volumes in certain businesseses.
The third impact is more of a delay in the decision making cycle.
There will be a bit of uncertainty.
But, the UK prime minster has done an amazing job of stabilising the party and communications around Brexit.
She has tried to reduce the uncertainty surrounding it to some extent.
What are IT companies such as yours doing to reduce the short-term impact of Brexit?
Different companies will have different strategies.
At Tech Mahindra, we have taken a policy of wait and watch because luckily, on the foreign currency side, we are more or less covered.
On the business side, we want our clients to firm up their strategies, before we react.
Because, ours (IT industry) is kind of lag industry, I am very conscious of the services industry and I will have to follow what my customer is doing.
So we are not taking up any proactive step at this stage.
Does Brexit also throw up any opportunities?
I am very optimistic about it because the public sector spending will go up, because if you see David Cameron government was very focused on austerity.
Now austerity certainly had reduced the spending.
Second thing is, for their (UK) economy to get a boost, they will go in for innovation.
We are seeing some of that. People are participating in the innovation, some of the local entrepreneurs.
In a long term, I would say, Brexit could work to Tech Mahindra's advantage, because we are a very prominent player in UK.
What are the indications you are getting on overall client spends and budgets?
I think a lot will depend on US presidential elections and the next 99 days.
In a lot of ways it sets the mood.
Right now the mood is US is doing upbeat, commodity prices have started coming back, energy and aviation sector are also looking up, so in general I would say there is a positive environment as of today.
On the growth side, I had indicated before that the communications part of my business either cyclical or otherwise are going through transformation and may not be as efficient, where as the enterprise business will continue to grow.
You saw BFSI and healthcare doing very well. US has done very well.
On the communication side also, my traditional IT business has shown growth.
It is mobility and the network services business, which have been a little slow this quarter.
As we go along, the communications business will also start looking better as we complete the transformation at LCC by the end of this year.
With share of digitisation in the overall revenues increasing, do you believe the volatility in revenues will also go up given the smaller deal sizes and smaller deal tenures in the digital business?
By definition, it could become, but I won't call it volatile, but change in the mix of the way business is delivered, traditional business have lent itself to a factory approach, which mean you could have your software development unit, you could protect your people, but in a digital environment solutions are delivered as you go along, so the chances of co-developing with the clients is much higher; and in that case you need more skilled and more empowered team at the clients' location.
The image is used for representational purpose only. Photograph: Reuters