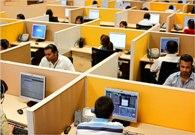 The business process outsourcing industry in India, which is as export-oriented as the information technology services industry, is unperturbed despite the macroeconomic challenges and problems that are haunting the US, its biggest market.
The overall mood at the Nasscom annual BPO strategy meet in Gurgaon was reflecting this.
Industry chieftains, strategists and analysts were unanimous that a slowdown, if at all happens again, won't affect the prospects of the $17-billion industry.
This is given the fact that global clients have already undergone significant restructuring with no headroom for further cost reduction.
The impact, if at all, will be positive since the clients will be forced to outsource more to optimise the costs and the benefits of that will come to the global outsourcing services providers, say industry leaders.
"In 2008, when the economic slowdown happened, we and the customers went through a fair amount of adjustment. We effectively moved from one pricing model to the other.
"The customers gave us far more flexibility than they gave before and that led to a different kind of relationship. Given all these, we think that the business for us will continue to be good," Nasscom President Som Mittal said on the sidelines of the two-day
event that started on Wednesday.
Besides, he said the BPO industry was more insulated as compared to some other industries, as it was not directly linked to the global uncertainties.
Seconding his view, Pramod Bhasin, the non-executive vice-chairman of Genpact said the sector would go at a steady pace in the long term.
According to rating agency Crisil, while the IT sector grew by seven per cent during the downturn, the BPO sector expanded by 20 per cent.
"Those numbers speak of a very interesting dynamics and what lies ahead for the BPO industry," said MD and CEO Roopa Kudva.
Moreover, in case of IT projects, the companies have to make payments upfront and wait for the benefits to accrue.
But a BPO project is productive from day one, according to Manish Choudhury, VP and MD of Pitney Bowes Software India.
The software body said it remains confident about its projection for 16-18 per cent growth of the Indian IT industry in 2011-12 despite economic uncertainty in the US and European markets.