State-owned Bharat Petroleum Corporation Limited and Videocon Industries on Friday said an oil discovery has been made in their deep sea block off Brazil.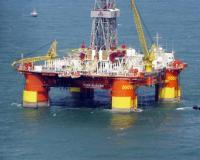 Oil was struck in the BM-SEA-11 block in ultradeep waters of Sergipe-Alagoas basin, the two firms said in a separate but identical statements.

Brazil's national oil firm Petroleo Brasileiro SA or Petrobras is the operator of the block with 60 per cent interest. Bharat PetroResources Ltd, a wholly owned subsidiary of BPCL and Videocon Industries, holds the remaining 40
per cent.
The discovery well 1-SES-167, informally called 'Farfan', is located 109 kms from the city of Aracaju in water depth of 2,720 meters.
"The Farfan well is located 21 kms southeast of the earlier discovery well 'Barra and 10 kms north west of appraisal well 'Barra-1, respectively," the statement said.
"The well proved presence of excellent sandstone reservoirs saturated with light hydrocarbons... with gross pay thickness of 44 meters," it said.