Older workers are headed for the VRS exit in larger-than-expected numbers even as unrest stirs over unrevised wage settlements.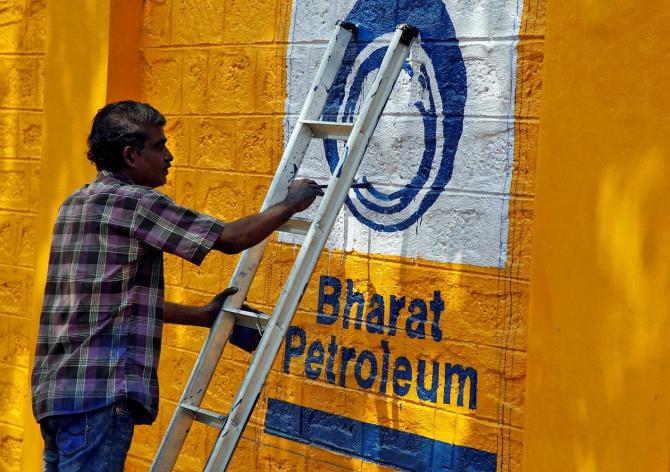 Fifty-year-old Pawan Kumar (name changed) from Mumbai has been a lower-grade permanent employee with Bharat Petroleum Corporation (BPCL) for the past 26 years, and he expected to retire from the public sector oil major.
Last year, after the government declared that the oil major would be privatised, that career path is no longer a certainty.
Kumar's chief concern is his minimal education - till class 2 - which a private player may not find acceptable.
So when BPCL announced a voluntary retirement scheme (VRS) in July, he opted for it.
"I have two children in classes 10 and 12.
"What if a private player transfers me or finds no use for an uneducated person like me?
My bosses, too, told me that it would be wise to opt for VRS, since a private player may cut down the number of employees."
Kumar is not the only one to face BPCL's post-privatisation challenges; some 12 per cent of its employees who opted for VRS this month have suffered similar qualms.
A company official said 1,510 people opted for VRS - of BPCL's 11,000-odd employees - more than half from the marketing division where the average age of employees is 55.
"We received more VRS applications than we anticipated.
"We will be accepting only over 1,000 applications, and we expect the outgo to be Rs 500-600 crore," a senior executive said.
The company said it would give weight to senior people mostly in the workmen category.
But it is not only at the lower levels that BPCL is facing a pre-divestment challenge.
Two top board members - chairman and managing director D Rajkumar and director (refineries) R Ramachandran - were due to retire on August 31.
Though an extension of these key officials is expected, so far there has been no communication from the government.
Moreover, a head-hunting process was cancelled by the Public Enterprises Selection Board early this year.
This has raised concerns of whether the company will go driverless amid the divestment process.
The Covid-19 pandemic has caused the process to be delayed four times.
Now the government hopes to complete this financial year to meet its challenging Rs 2.1 trillion divestment target.
Roadshows were held in London, the US and Dubai, ahead of the national lockdown, and attracted interest from Shell, Chevron, ConocoPhillips, Saudi Aramco, Rosneft and Exxon Mobil.
This is not the first time BPCL's employees are facing the prospect of divestment.
The first National Democratic Alliance government under Atal Bihari Vajpayee announced similar plans for BPCL and Hindustan Petroleum in 2003.
That plan was derailed by strong employee protests and a Supreme Court order that demanded parliamentary approval for the privatisation of those companies.
This time round, union leaders see privatisation as inevitable.
"In 2003, we had conducted a two-day strike. Now, two strikes have taken place in October and February against privatisation.
"The major difference is that the Modi government has the majority and if it decides to do something, it can do it," said Aji M G, general secretary of Cochin Refinery Workers' Association, who is a plant operator.
Unions allege that employees were also forced to take up VRS in some departments, which a senior BPCL official denied.
The fact that some of BPCL's employees are preparing for the inevitable suggests a diminution of trade union power in 17 years, which partly reflects hiring public sector trends since then.
The Mumbai refinery, for instance, has 2,000 non-contractual employees out of its complement of 3,000-plus employees.
For the unions, the major concern is how far the employee complement will fall after privatisation.
The company has already lined up a new wage settlement clause that includes a review of the Long Term Settlement (LTS) offer after every three years.
Employees believe this may pave the way for private players.
At present, retirement benefits include 30 per cent of basic pay and dearness allowance (DA).
This, along with some post-retirement benefits, are also expected to be curtailed once a private player comes in.
Highlighting the LTS issue, the unions have called for a two-day strike on September 7 and 8.
"Our major demand now is a proper LTS, which has been due since January 2017," said a union leader in the Mumbai refinery.
He explained why the offer of 95 per cent DA and 12 per cent fitment (which refers to a particular percentage of the sum of the old basic pay plus DA) is not acceptable.
"All PSUs including not-so-profitable ones have given 100 per cent DA neutralisation and 15 per cent fitment to their workmen.
"Even our management has been enjoying this benefit from their pay revision since 2017. Our demand is parity with all other PSUs," he pointed out.
Another issue that the unions are raising is regarding the product pattern after the divestment.
"In the Kochi refinery, around 6.5 per cent of the product is liquefied petroleum gas, which is loss-making.
"BPCL is producing it only because of the social commitments of a government-owned company. A private major may not do the same," Aji said.
Interestingly, out of the 1,510 people who have opted for VRS only 67 are from the Kochi refinery, a major reason being the comparatively young employee base there.
Asked about the concerns raised by employees, a company executive said, "If you are competitive enough, it doesn't matter whether an overseas or Indian private player takes over, your job will be safe. It is a competitive world."
Photograph: Sivaram V