Generally, the central bank grants its approval by mid-March, or latest by March 31, but most banks have not received RBI approval on bonus packages this year.
Illustration: Uttam Ghosh/Rediff.com
The Reserve Bank of India (RBI) has started cracking down on bonuses to top executives at private sector banks.
According to sources familiar with the matter, the central bank is yet to grant its approval for bonuses to senior executives in private banks for 2016-17, even as the financial year 2017-18 has come to an end.
Generally, the central bank grants its approval by mid-March, or latest by March 31, but most banks have not received RBI approval on bonus packages this year.
The bonus for 2017-18 will be decided only after the closing of annual accounts, but that will also be subject to RBI approval.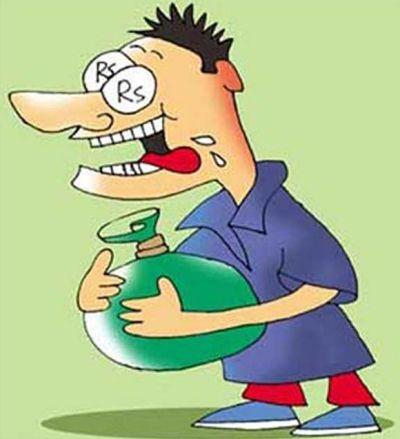 The industry practice for the compensation of senior executives is to have 70 per cent of the salary as fixed pay and 30 per cent as variable pay, including bonuses.
ICICI Bank's MD and CEO Chanda Kochhar had forgone her bonus in 2015-16, but for the next year she was supposed to receive Rs 2.2 crore.
Aditya Puri, MD and CEO of HDFC Bank, was scheduled to receive Rs 2.9 crore in bonus for 2016-17.
For the same year, Axis Bank MD and CEO Shikha Sharma was to receive a Rs 1.35 crore bonus, which was 50 per cent of her basic pay.
Even as banks announce the bonuses in their annual reports, and tax is deducted on these, the actual money is received by the executives only after the RBI gives approval.
Typically, the approval is sought by June, to which the RBI gives approval by February or end-March.
According to sources, the RBI, in some cases, sought clarification on such high bonuses of private sector executives at a time when there is a wide divergence between what the banks have reported as bad debts and what RBI auditors found.
The gross NPA ratio of ICICI Bank at the end of the December 2017 quarter was 7.82 per cent, up from 7.2 per cent a year earlier.
In the same period, Axis Bank's gross NPA ratio was 5.28 per cent, up from 5.22 per cent, and HDFC Bank reported a gross NPA ratio of 1.29 per cent, up from 1.05 per cent. Gross NPAs in absolute terms rose more than 20 per cent for Axis Bank and ICICI Bank, year on year, and 57 per cent for HDFC Bank.
For private sector banks overall, their gross NPA ratio as a percentage of assets was 4.15 per cent at the end of the December 2017 quarter, up from 4.03 per cent a year ago.
E-mails sent to ICICI Bank, HDFC Bank and Axis Bank seeking comments on the central bank's discomfort with variable pay went unanswered.
The RBI also did not offer any reply to a mail sent by Business Standard.
But sources said in response to RBI clarification on the bonus and variable pay structure of private banks, HDFC Bank maintained it had followed the same structure for a decade and the RBI had approved those bonuses previously.
Sources said Axis Bank had modified its pay structure for senior management, but the RBI was yet to respond.
The compensation committees of ICICI Bank, YES Bank and IndusInd Bank had not received any communication from the RBI, either seeking clarification, or approving, on bonuses, sources said.
They added the RBI was unlikely to approve high bonuses this time, but would not force the banks to give up bonus altogether as it was part of their pre-agreed variable pay structure.
While the regulator has limited say over other components of variable pay, as these are part of pre-agreed packages, the central bank is scrutinising executive bonus much more closely.
Globally, executive pay and compensation is a sensitive issue, but in India, it was not frowned upon. However, mounting bad debts may have changed the RBI's opinion.
"Banks that have not received a RBI query seem to be better off in having the bonus approved," said a banker.
The total remuneration of the managing directors of five major private banks increased in 2016-17.
Puri remains the highest paid bank MD with a marginal increase from Rs 9.7 crore in 2015-16 to Rs 10 crore in 2016-17.
Kochhar earned a total of Rs 7.8 crore in 2016-17, a 63 per cent rise over the previous year. Sharma received Rs 60.1 million as compensation in 2016-17.
Compared to them, the then State Bank of India chairman, Arundhati Bhattacharya, drew a salary of Rs 28.9 lakh in 2016-17.
According to the RBI's definition, performance-based bonus is paid out annually and is "linked to performance achievement against balanced performance measures and aligned with the principles of meritocracy".
"The payment of all forms of variable pay is governed by the affordability of the bank and based on profitability and cost income ratios," according to the RBI's definition.