The current wage revision for PSBs, as well as some private lenders, is due from November 2017 for five years - up to October 2022.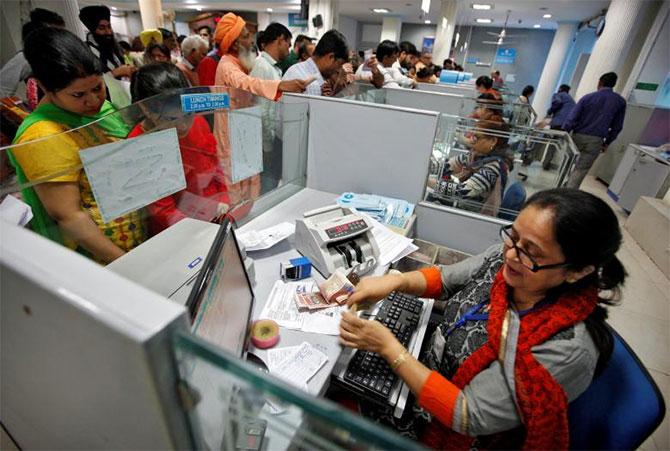 Banks will resume talks with trade union leaders on the much-delayed revision in wages, on July 22 - a first such meeting after the pandemic impacted economic activities in India.
The Indian Banks' Association (IBA), which represents the managements of banks, is scheduled to hold a meeting of its negotiating committee with associations of workers and officers, in Mumbai.
The last such bi-partite meeting took place on February 29, before a two-month national lockdown was enforced in March to manage the Covid-19 pandemic.
What makes the talks significant is that the impact of the pandemic on banks' finances will be factored in.
The current wage revision for public sector banks or PSBs, as well as some private lenders, is due from November 2017 for five years - up to October 2022.
Rajkiran Rai G, managing director and chief executive officer of Union Bank of India, is chairman of the negotiating committee, while bank employees will be represented by the United Form of Bank Unions.
During the previous meeting, the IBA had enhanced its offer to a hike of 15 per cent on "payslip cost".
This essentially meant a 15 per cent hike in the wage bill of banks - which includes salary and other components like pension and paid leave.
This, in itself, had a cost implication of Rs 8,000 crore for banks, when the impact of Covid-19 wasn't factored in.
Prior to the February meeting, bank unions had called for a three-day strike in March - which was deferred following a "positive development" from the talks.
Union leaders, who have organised multiple strikes over the past three years dissatisfied by the wage revision proposals, said that the discussions will be held afresh.
"The pandemic will certainly impact the paying capacity of banks, especially since we are talking about wage negotiation for 1 million employees," a top bank union leader said.
The IBA and union leaders have held informal talks over the past few days.
"Any wage negotiation talk without incorporating the Covid impact will be difficult.
"The private sector has taken cost rationalisation measures, and so has the central government, with no additional dearness allowance for its employees," said the union leader.
Banks have started conducting stress tests to gauge the impact of the pandemic on their balance sheets, asset quality, profitability, and capital adequacy for FY21, following up on the RBI's advice.
RBI Governor Shaktikanta Das said in an event on Saturday the medium-term outlook was "uncertain, and depends on the Covid-19 curve", as the pandemic would result in higher non-performing assets and capital erosion of banks.
"Based on the outcome of such stress tests, banks and non-banking financial companies have been advised to work out possible mitigating measures, such as capital planning, capital raising, and contingency liquidity planning," Das said, adding that recapitalisation had become necessary.
Photograph: Ajay Verma/Reuters