Factors like dedicated recovery teams, centralised follow-up on bad loan accounts and resolutions via NCLT are driving the trend
Illustration: Uttam Ghosh/Rediff.com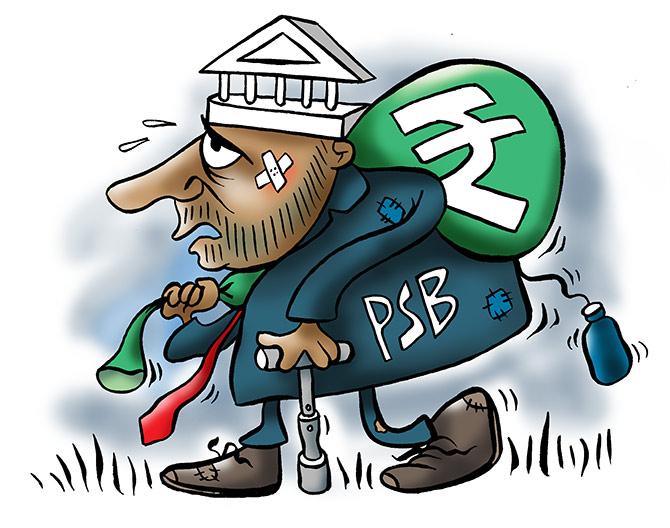 Most public sector banks (PSBs) have seen a sound recovery from bad loan accounts in the first quarter (Q1) of the current financial year, indicating that their consistent focus on containing non-performing assets (NPAs) is yielding results.
Factors like dedicated recovery teams, centralised follow-up of bad loan accounts, apart from resolution of big NPA accounts through the National Company Law Tribunal (NCLT), are driving this trend.
For example, the scam-tainted Punjab National Bank (PNB) recovered a gross amount of Rs 7,700 crore in the April-June period of 2018-19, which was higher than the total amount of Rs 4,443 crore recovered during the last fiscal year (2017-18).
PNB has set a target to recover Rs 200 billion in April-September 2018.
The Delhi-based bank has to recover Rs 115 billion in the current quarter ending September 2018.
It has identified seven NCLT cases in the final stages of resolution where it expects substantial money to come in during the second quarter of FY19, said PNB Executive Director L V Prabhakar.
Similarly, another big public sector lender Canara Bank has seen cash recovery to the tune of Rs 3,537 crore in Q1 of this fiscal year from bad loan accounts.
The Bengaluru-headquartered lender had recovered Rs 6,458 crore during the January-March period of last fiscal year.
"A large part of the recovery has come from resolution of two accounts at the NCLT.
"Apart from this, PSBs' focus on containing bad loans through closer monitoring and frequent follow-ups are also yielding results from other delinquent accounts," said Kartik Srinivasan, head of financial sector ratings at Icra.
"As resolutions in more NCLT accounts arrive, we will see a large chunk of cash recovery in the public sector banking space. It is a just a matter of time before we see a turnaround in asset quality," he added.
Apart from recovery from the NCLT accounts, banks have also geared up their efforts with the adoption of many innovative methods to turn many delinquent accounts into regular ones.
For instance, Vijaya Bank has dedicated recovery teams to do follow-up on individuals who have defaulted in servicing their loans.
The bank, which has one of the lowest net NPA levels among public sector lenders, recovered Rs 410 crore in Q1 of this fiscal year, which was almost double the amount as compared to the preceding quarter.
"We have dedicated recovery teams and centralised monitoring of loan accounts. Owing to these efforts, we have seen good momentum in the recovery front," managing director and chief executive officer of Vijaya Bank, R A Sankara Narayanan, had said after the Q1 earnings announcement.
Banks like PNB have gone a step ahead with the setting up of call centres from where follow-ups on NPA accounts up to Rs 1 crore are being done.
The bank has also started Mission Gandhigiri, under which demonstration in front of the premises of recalcitrant borrowers are being held by its recovery staff.
It has pressed into service 3,000 bankers on the recovery task.
"We have realigned our strategy to focus on the recovery of bad loans. Our total cash recovery in Q1 was at Rs 2,000 crore, which was close to four times of the same period last fiscal year," said an official of Syndicate Bank.