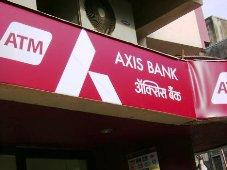 Private sector Axis Bank on Thursday launched a new home loan product that offers fixed interest rate of 11.75 per cent, to cash in on the busy festival season demand.
The bank launched 'NISHCHINT' lifetime fixed interest home loan scheme which offers home buyers loans at a fixed rate of 11.75 per cent for the entire duration of the loan that is up to 20 years, Axis Bank said in a statement.
Under the scheme, the bank will offer home loan to eligible buyers up to 85 per cent of loan-to-value for debt up to 20 lakh and 80 per cent loan-to-value for borrowings above Rs 20 lakh, with a pre-payment charge of 2 per cent of the outstanding amount, it said.
It is to be noted that the bank offers home loan up to Rs 25 lakh under floating rate at 10.75 per cent.
So customers opting for the 'NISHCHINT' plan will have to shell out a premium of one per cent over the floating rate of interest.
At the moment, the base rate of the bank stands at 10 per cent.
Customers are facing uncertainty about EMIs on their home loans, due to interest rate increases in the market, Axis Bank ED (retail banking) R K Bammi said.
"At Axis Bank, we want to offer the customer certainty about the EMI they need to pay for the entire life of the loan.
"'NISHCHINT' offers that option to the customer at a very attractive rate," he said.
Since rates are almost at their peak, banks have no problem in offering loans at fixed rate, analysts said.
Earlier this month, mortgage firm HDFC, LIC Housing Finance launched teaser product following ICICI Bank.
ICICI Bank was the first to introduce a fixed home loan scheme last month, after SBI discontinued with it in April.
Clarifying whether such products are teaser or not, the RBI said loans that are fixed in the initial years and become floating later would be considered as teaser loans, and banks must make provisions as mandated by the regulator.
If you have an opinion to express and wish to write an article on price rise, corruption, economy, technology, unemployment, business, entrepreneurship, leadership, stock market, et cetera, please mail them to us at bizdesk2003@rediffmail.com.
And, yes, kindly keep your articles between 800 and 1,000 words.
Happy writing!