Selection committee chairman Krishnamachari Srikkanth expressed confidence of a good showing from India's 15-memeber squad in the first two ODIs against England, saying it is "well-balanced" and "completely fit".
The former India opener said the selection committee had a threadbare discussion in the presence of skipper Mahendra Singh Dhoni and new selector Mohinder Amarnath, and the selection of the squad for the Hyderabad and Delhi matches was unanimous.
- Harbhajan axed; Sharma, Aravind in team
"This is the first selection meeting of the new committee and we had a good discussion. Dhoni and new selector Jimmy (Mohinder) was with us. We discussed everything threadbare and we have come to a good combination. We have chosen a very balanced side," Srikkanth told reporters after the squad was announced in Chennai on Thursday evening.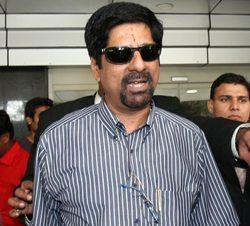 "We have selected the team just for the first two ODIs; after the Delhi match we will select the team for the next matches. We have big series coming up against West Indies, followed by the tour of Australia.
- Sharma, Aravind rewarded for consistency
"We have not compromised on quality; it is a well-balanced side, a rejuvenated one, and even Dhoni is confident we will do well in future," he added.
India were left grappling with injuries on their of tour of England, where they failed to win a single match, but Srikkanth said the new team is free from injuries.
"We had a pretty young side in England and we did well, although we didn't win any match; but that was more to do with the injuries and rain, or, otherwise, we could have won a few matches at least.
"This is our home series, and, in home conditions, I am confident we will do well. Senior cricketers were unfit so they were left out and we have a lot of youngsters. Youngsters bring a lot of enthusiasm.
"We ensure we have a fully fit team. Youngsters will have to deliver and they would be enthusiastic. So let us support and back Team India and we will be back with a bang in the future," he said.
Asked about the fitness issues of players, Srikkanth said, "Fitness will be properly scrutinized. We will go by the NCA report and will be strict with fitness issues. Unless players are 100 per cent fit, they themselves will not like to play."
Harbhajan Singh was dropped, while young spinner Rahul Sharma and pacer Sreenath Aravind were included in a depleted 15-member squad, which also has Gautam Gambhir returning to the side after missing the ODI series on the tour of England because of concussion.